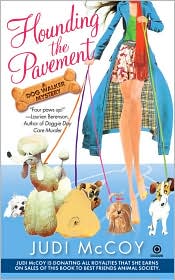 ELLIE ENGLEMAN, THE NEWEST DOGWALKER ON MANHATTAN'S SWANKY UPPER EAST SIDE, HAS A TALENT--BESIDES SCOOPING POOP. SHE CAN HEAR WHAT HER CANINE CLIENTELE ARE THINKING. SO WHEN AN OWNER IS KILLED, ELLIE MUST PERK UP HER EARS AND BONE UP ON HER SLEUTHING.
Ditching her dog-eat-dog career and cur of a husband, Ellie happily trades her power suits for a panty hose-free wardrobe and her dream job. Ans she couldn't be happier--unless, of course, Mr. Right shows up at her door with a pint of Haagen-Dazs.
But when she stumbles upon a dead client, Ellie becomes a suspect in an investigation led by smoking-hot, if cocky, Detective Ryder. Ellie wouldn't exactly mind staying in his custody--if it meant sticking close by him 24/7--but she worries about the deceased's missing prizewinning bichon. Did someone steal him? If only she could find the dog, he'd tell her who the culprit is. But a killer wants Ellie to let sleeping dogs lie...or else.
Just finished Judi McCoy's first Dogwalker book,
Hounding the Pavement
and it was pretty good. Yes, there wasn't anything really supernatural involved, other than Ellie talking to dogs. She can hear their thoughts and she just talks to them and they understand. I'm personally not a big dog lover, my mom is so I tolerate our two monsters, but still I do like dogs. This was a good mystery novel.
I don't read too many straight mysteries all the time because I can never find one that is really good or gripping and the Dogwalker series so far proves to fit that bill in being gripping. Ellie and Ryder have a very unusual start to their relationship in that they almost hate each other in the beginning. Ryder is not a dog lover and Ellie is, so when he makes his snarky comments about dogs, it makes Ellie and her dog Rudy who understands what people say, mad. So there were some definite chuckles in the book!
The mystery itself was good, Ellie is doing everything she can to find the missing dog, not so much the killer. But it is kind of obvious how things might end up happening. If you're not looking for a particular something, what usually happens? Of course though, there are many suspects in the novel and it leaves you guessing. Of course I think I made my guess when we first saw a particular someone and was RIGHT! Yea me!
The relationship Ellie has with her dog Rudy is also entertaining. Rudy is a little firecracker and can say what a dog would say. He isn't single minded like you would see in a movie and just talk about throwing sticks or eating treats, he's pretty intelligent for a dog.
Overall it was a very good book with lovable and REAL characters. Ellie is extremely real and I love that about her. When I can find the time between my other reads, I will definitely look into the next book in the series
Heir of the Dog
.
**And don't forget I still have a
contest
going to win a SIGNED copy of
Shift
. Check below for details! There's still time to comment if you haven't already.