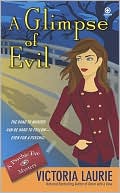 I found some more cover art! It was new to me so I thought I would post it in case no one else has seen it yet.
This one is Victoria Laurie's
A Glimpse of Evil
that releases on
July 6
! A few months early than it's usual fall release!
Here's the BOC:
As the FBI's newest civilian profiler, Abby Cooper has a tough job ahead of her. Not only does she have to use her powers of intuition to help solve a backlog of the bureau's cold cases, but she must also win over a frosty group of seasoned investigators and teach them how to develop their own perceptive abilities
If that weren't challenging enough, Abby's sure that several of the cold cases are connected, but she's the only one who's convinced. Things go from bad to worse when Abby and another agent are suspended for not following protocol, leaving Abby and her old partner, Candice, to investigate on their own. To discover how these pieces fit together, Abby will have to call on every intuitive bone in her body... before she's the one put on ice.
Here is another favorite of mine that I cannot wait to read! It's Maria V. Snyder's Spy Glass! I love this cover! The warm colors in the background are so cool and Opal, I assume, holing one of her glass creations near her eye, using it to perhaps spy on someone? Totally awesome! It stinks that I have to wait until September 1st for this one!

This description comes from Amazon, and it's not quite BOC material from my understanding, but still it gives you an idea as what we can expect from the novel:
An undercover mission leads to danger, adventure and an impossible choice. After siphoning her own blood magic in the showdown at Hubal, Opal Cowan has lost her powers. She can no longer create glass magic. More, she's immune to the effects of magic. Opal is now an outsider looking in, spying through the glass on those with the powers she once had, powers that make a difference in the world. Until spying through the glass becomes her new power. Suddenly, the beautiful pieces she makes flash in the presence of magic. And then she discovers that someone has stolen some of her blood - and that finding it might let her regain her powers. Or know it could be they are lost forever.
Can't remember if I posted this one or not. It's been out there for awhile, but still it's super cool! Early to Death, Early to Rise is the second book in Kim Harrison's debut YA series. The first one was really good and brought up a whole lot of interesting items and questions. Cannot wait to see where the second one takes us. This one releases on May 25, along with several other fabulous titles!
Once again, couldn't find a BOC, so here's an Amazon description:
Fans of Once Dead, Twice Shy (2009) won't be disappointed by this more-of-the-same sequel, which follows Madison—the newly minted dark timekeeper of the afterworld—as she tries to stave off unnecessary reaper scythings. The plot this time revolves around a dangerous computer virus, but the story's primary concerns are the rocky relationships between the rogue's gallery of supernatural characters (and a few human ones, too). Harrison's afterworld rules remain rather exhausting, but her theme of fate versus choice is more finely tuned here than in the first book. If this is your kind of thing, you already have it on order.
Here's another from
Borders.com
:
When Madison Avery, seventeen, spunky, and technically dead, takes on the role of Dark Timekeeper, she struggles to figure out her place in the war between light and dark reapers.
Not much, but it was all I could find.




One more! Chloe Neill's
Hexbound

that releases in January 2011! Cover is awesome!! Love the blue-green glow!! Stellar!
No description yet, the cover was just released on
Chloe's blog
on the 13th, will post when I find it!