I got a two books this week! My TBR pile is continually growing. I'm getting too many books and July 27 will have several new releases so I'm going to be swamped with them for awhile. I LOVE that feeling. By Christmas I will likely be dying for something new to read.
Moving on! In My Mailbox is a weekly blog posted created by Kristi over at
The Story Siren
.
This week I have:
Linger
by Maggie Stiefvater
Really excited about this one since I just read
Shiver
not that long ago.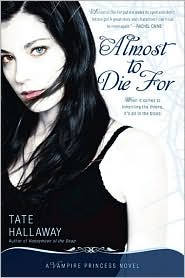 Almost to Die For
by Tate Hallaway, this was one that I won in the Paranormal Summer Fest contest. It won't be released for another 3 weeks on August 3. The cover looks interesting and the "princess" bit makes me wonder what it will be about. Will get to it eventually, have a few other books that I REALLY want to read first. There are just not enough hours in the day for me!
And that's it. Not a whole lot, but as I said I'm already overwhelmed with books. The Sunday after the 27th will likely have a big IMM post! Until next time!
So what did you get this week?