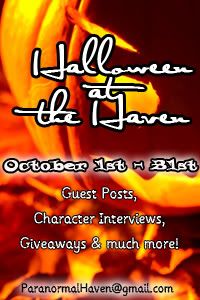 Paranormal Haven
is having a HUGE October contest! That's right, for the entire month of October, Paranormal Haven will be having a spectacular Halloween contest, because Halloween is the coolest holiday ever!
They will have guest posts by amazing authors like Jeaniene Frost, Gena Showalter, Kerrelyn Sparks, Stacia Kane, Moira Rogers, Melissa De La Cruz and many more (count is at 25 authors participating).
There will still be some non-Halloween events going on and all the Halloween events will eventually be put into a list on the sidebar!
And I post this because if you blog, tweet, or spread the word any other way BEFORE October 1 AND put the button in your sidebar like I have you can extra entry points to the contests!
For more info click
here
!
Can't wait til October--it's my favorite time of year! Of course I do love December as well, for that's when my birthday is and I love celebrating Christmas with my family, but let's focus on Halloween for the next month!