Teaser Tuesday is a weekly blog post by MizB over at
Should Be Reading
.
Still reading Fatal Circle. Had a hectic weekend with more work and when I finally had a day off, I just veged out and did a whole lot of nothing. It was nice.
Now it's back to work and back to reading and trying to edit my own manuscript.
Moving on...
Here are the rules for Teaser Tuesday:
1. Grab your current read
2. Open to a page
3. Pick out 2 lines that are SPOILER free
4. Name the title, author, etc.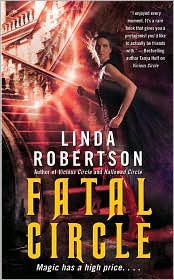 "Can't sleep unless I'm naked. Move over."

p97
















TITLE: Fatal Circle

AUTHOR:

Linda Robertson


GENRE:

Urban Fantasy


RELEASE DATE:

June 29, 2010