Waiting on Wednesday is a weekly blog post by Jill over at
Breaking the Spine
, that spotlights releases we're eagerly awaiting.
I was going down my list of releases still to come this year, when I realized I skipped one for September! It was a release I started hearing about some time ago and I guess I forgot to do my WoW post!
Anyway, a debut release that I can't wait to read is Merrie Destefano's
Afterlife: The Resurrection Chronicles
.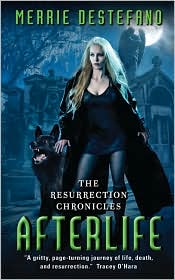 WELCOME TO YOUR NEXT CHANCE.
Chaz Domingue works as a professional Babysitter in New Orleans. His job is to integrate and protect the recently deceased into their new and improved lives—a position he reluctantly accepted after his father was murdered. Though Fresh Start has always been the only game in town, resurrection isn't what it's cracked up to be. Nine lives are all a person can get—and a powerful group of desperate, high-level Nine-Timers will stop at nothing to possess the keys to true immortality. Unfortunately, this places Chaz at the lethal center of a maelstrom.
Now the only hope for Chaz and his family—and the ultimate fate of the human race—is secretly locked away in the mind of Angelique, the beautiful, mysterious Newbie who's been entrusted to Chaz's care…
TITLE:
Afterlife: The Resurrection Chronicles
AUTHOR:
Merrie Destefano
GENRE:
Urban Fantasy
RELEASE DATE:
September 28, 2010