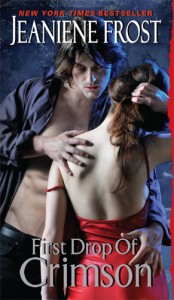 Okay, so at
Bitten By Books
today they are having an interview/Q&A with Jeaniene Frost regarding her latest release
First Drop of Crimson
which comes out next week! YAHOO!
There is a very entertaining Q&A posted here:
http://bittenbybooks.com/?p=19230
and below that is the information you need for the contest as well as posting any questions you might have for Jeaniene!
I am really excited about this book, although the guy on the cover is nowhere near how I pictured Spade from her Night Huntress series, but oh well. And I so had the female heroine down when she said she couldn't reveal the heroine to us later last year or whatever. She said the heroine would be in one of the upcoming books and didn't want us to know at the time, after reading,
At Grave's End
, I so knew who it was. I still won't say it here, just incase of spoilers, but don't read the BOC if you haven't read
At Grave's End
yet or still want to be surprised. Pretty sure almost everyone knows who wants to know.
Anyway here is a link to Jeaniene's youtube video trailer,
http://www.youtube.com/watch?v=k1zhJysS3mQ
Also here is a link to read the first 20% of First Drop of Crimson, I have been avoiding these little teasers, because having read any kind of teaser before only makes me want to read it all that much more and I usually have to wait and as Inigo says, "I hate waiting". ;)
But for those of you who can withstand the tease, here's the link:
http://browseinside.harpercollins.com/index.aspx?isbn13=9780061583223
Well that's about all, head on over to Bitten By Books for more of the contest details and the Q&A and other fun stuff regarding our friend the vampire!