Number of Books Read: 112
Number of Re-Reads: None, I don't have time for re-reads these days!
Genre You Read the Most From: Paranormal/Fantasy YA (kind of a mix between the two subgenres)
1.

Best book you read in 2016:
Cutting myself off at these three! A series finale, a standalone, and a debut!
2.

Book you were excited about and thought you were going to love more but didn't?
I had really enjoyed this series but for some reason I was incredibly disappointed by this finale. In fact, it really made me look at the entire series differently. I think I even donated the books because I was just so upset by its grand finale. :(
3.

Most surprising book you read?
This finale really took me by surprise, but in some ways I felt like I should've seen the ending coming! Through it all, I was emotional, but it was definitely the right move for the story!
4.

Book you "pushed" people the most to read (and they did)?
I likely gushed over my love for this series when we finally got book 4 in the series!! I was sooo incredibly happy and my reviews are always just saying how awesome the series is!
5.

Best series you started in 2016? Best sequel of 2016? Best series ender of 2016?
Best series starter I think might have been Nighstruck! It was so creepy. So weird! Perfectly ME! And the ending was a legit rip your heart out cliffhanger!!
Best sequel was technically book 5 of the series and that was Crystal Storm! It. Was. INCREDIBLE! All the Falling Kingdoms books have been freaknig amazing and this one was no different. BUT BEWARE!! It has THE WORST CLIFFHANGER EVER!!! If you thought Frozen Tides had a jawdropping one, well this one will make you scream bloody murder!!! *Just a friendly warning! ;)
Best series ender...there were quite a few that I read this year, some to series that had left me hanging in the balance and for whatever reason I found myself choosing The Winner's Kiss! I binge read this series this year and positively loved it! And I loved binge reading it! No cliffhangers to drive me insane! YAY!
6.

Favorite new author you discovered in 2016?
Debut author Alwyn Hamilton!
7.

Best book from a genre you don't typically read/was out of your comfort zone?
Might be cheating a little with this one as it's a 2017 book I read this year. It's not that I don't read thrillers, as I do occasionally. But I guess the subject matter in this one was a little intense for me. I still really enjoyed it. It was intense, but it was still really, really good!!
8.

Most action-packed/thrilling/unputdownable book of the year?
A total tossup between these four from my stilted memory! LOL! Though, again, I caution against reading Crystal Storm this early! The cliffhanger will DESTROY YOU!!! BEWARE!! ;)
9.

Book that you read in 2016 that you are most likely to re-read next year?
Again, I don't really have time for re-reads. :(
10.

Favorite cover of a book you read in 2016?
Can't ever just pick one when it comes to covers! I'm lucky I could force myself into 4 instead of 5! Naturally have to choose Crystal Storm since Magnus is on the cover! *SWOONS*
11.

Most memorable cover of 2016?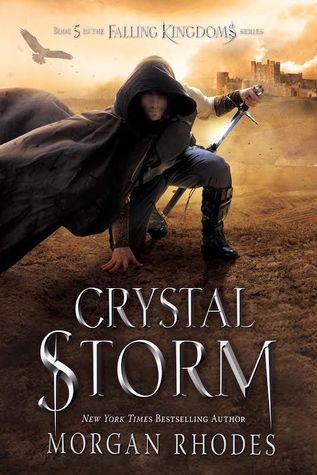 Did I mention MAGNUS is on the cover??? ;D
12.

Most beautifully written book read in 2016?
13.

Most thought-provoking/life changing book of 2016?
Again with the 2017 title read in 2016. I chose this again because it was very much thought-provoking.
14.

Book you can't believe you waited until 2016 to read?
But at the same time, I do realize why I waited until 2016 to read it! Now I am suffering for it by reading the next book in 2016 too!
15.

Favorite passage/quote from a book you read in 2016?
"Destiny wasn't exciting or romantic or epic. It was annoying." Danielle Paige; Stealing Snow
16.

Shortest and longest book read in 2016?
Shortest: 43 kindle pages
Longest: 679 pages
17.

Book that shocked you the most?
Aka the book that's going to fit a LOT of questions in this survey!
18.

OTP of the year?
Magnus and Cleo of course! ;)
19.

Favorite non-romantic relationship of the year?
Another 2017 book read in 2016 and of course the answer is Ari and Janco!!
20.

Favorite book you read in 2016 from an author you've read previously?
Because I was SOO happy to see Kresley picking up this series again!!!
21.

Best book you read in 2016 based SOLELY on a recommendation from somebody else/peer pressure?
And all three were successes!
22.

Newest fictional crush from a book you read in 2016?
Another 2017 book read in 2016, and his name is Arcus!!
23.

Best 2016 debut you read?
24.

Best worldbuilding/most vivid setting you read this year?
There were many, but I had to go with Unhooked because NEVERLAND!!
25.

Book that put a smile on your face/was the most fun to read?
The first three simply because THEY EXIST!!
And Dawn Study because of Janco!
26.
Book that made you cry or nearly cry?
Think Crooked Kingdom brought on the ugly tears!!
27.

Hidden gem of the year?
Yes, I was late to the game, but still, I ADORED Illuminae! It was the first time I've read a book that was soley told through all the different media formats. Sometimes those excerpts came up in other books, but never used as THE storytelling method!
30.

Book that made you the most mad (doesn't mean you didn't like it)?
Lol. More like mad at myself for reading it THIS year!