Here are the rules:

1. Grab your current read
2. Open to a page
3. Pick out 2 lines that are SPOILER FREE
4. Name the title, author, etc
"'I've got a secret, Violet. Something I can do, that other people can't.'





'

You've got my attention.'"

p 150
TITLE: Between the Devil and the Deep Blue Sea
AUTHOR:

April Genevieve Tucholke
PUBLISHER:
DIAL
GENRE:
Mild Thriller/Myster

y YA
RELEASE DATE:
August 15, 2013
Top Ten Tuesday is an original feature/weekly meme created at The Broke and the Bookish. This feature was created because we are particularly fond of lists here at The Broke and the Bookish. We'd love to share our lists with other bookish folks and would LOVE to see your top ten lists!

Each week we will post a new Top Ten list that one of our bloggers here at The Broke and the Bookish will answer. Everyone is welcome to join. All we ask is that you link back to The Broke and the Bookish on your own Top Ten Tuesday post AND add your name to the Linky widget so that everyone can check out other bloggers lists! If you don't have a blog, just post your answers as a comment. Have fun with it! It's a fun way to get to know your fellow bloggers.
This week's topic is:
Ten Books To Read If You Are In The Mood For a YA Thriller
THREE I NEED TO READ BUT FEEL 99% CONFIDENT I'M GONNA LOVE!!
1.

THE LAST GOOD DAY OF THE YEAR

by Jessica Warman

--

I won this last year and still need to read it but sounds creepy awesome!
2.

THE DEVIL YOU KNOW

by Trish Doller

--

another I still need to read but read a lot of good reviews on it! I love a good mystery!
3.

AFTER THE WOODS

by Kim Savage

--

this is on my wishlist and one I would really like to read at some point! Been hearing a lot of good things about it too!
READ THRILLERS THAT WERE THRILLING! ;)
4.

DON'T LOOK BACK

by Jennifer L. Armentrout

--

naturally, a JLA book makes the list! ;)
5.

MADE FOR YOU

by Melissa Marr

--

one that was creepy good!! Loved this one!
6.

THE BODY FINDER

by Kimberly Derting

--

this one is actually a series!! There's 4 books and pretty much all of them were awesome and creepy thrilling!!
7.

3:59

by Gretchen McNeil

--

this one's a thriller in a sense! Plus there's a Sci-Fi twist! But it was thrilling what with the doppelganger thrown in and how the main heroine is trapped in another life and her "evil" twin won't allow her to come back to her world!
8.

DOOMED

by Tracy Deebs

--

a "mild" sort of thriller because the world has been thrown into chaos without technology and it's up to one girl to solve the puzzles the hacker left her. So it's mild in a sense, but it was thrilling in a way because it terrified me to think how easily some super genius could make this a reality!
9.

THE RULES

by Nancy Holder & Debbie Viguie

--

my favorite writing duo's first thriller! Still unknown if this will be a series or not, and I'm hoping it does because I loved it!!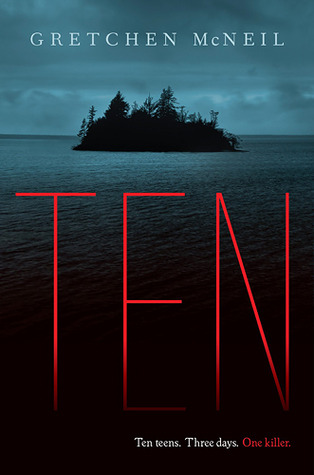 10.

TEN

by Gretchen McNeil

--

and yes, I saved this for #10 for the obvious reason! LOL! I really liked this one, but I know it's got a ton of mixed reviews. I thought it to be pretty thrilling though!!