1. Grab your current read
3. Pick out 2 lines that are SPOILER FREE
4. Name the title, author, etc.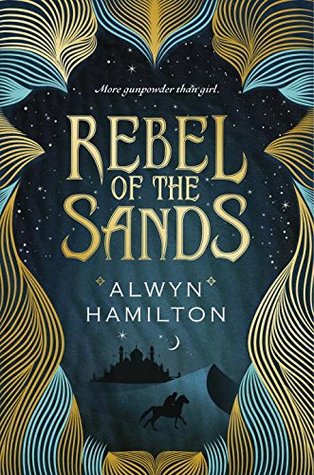 "

I had

seconds to decide. My legs were trapped, my gut tugging me recklessly towards

Tamid. To near certain death. My heart tugging me to Jin and escape and

the unknown."

p 84
PUBLISHER:
Viking Books for Young Readers
RELEASE DATE:
March 8, 2016
Top Ten Tuesday is an original feature/weekly meme created at The Broke and the Bookish. This feature was created because we are particularly fond of lists here at The Broke and the Bookish. We'd love to share our lists with other bookish folks and would LOVE to see your top ten lists!

Each week we will post a new Top Ten list that one of our bloggers here at The Broke and the Bookish will answer. Everyone is welcome to join. All we ask is that you link back to The Broke and the Bookish on your own Top Ten Tuesday post AND add your name to the Linky widget so that everyone can check out other bloggers lists! If you don't have a blog, just post your answers as a comment. Have fun with it! It's a fun way to get to know your fellow bloggers.
This week's topic is:
Ten Books On My Spring TBR
1.

LOST

by Alyssa Rose Ivy

--

I got this for review and am SO excited to see how Daisy and Owen's story concludes! LOVE this world Alyssa's created!
2.

RECKONING

by Veronica Wolff

--

UNBELIEVABLY ecstatic to read this one!! I've been waiting ages for word of another book in this series and Veronica was ever so kind to give me a review copy!! I cannot wait!!
3.

UNTAMED

by A.G. Howard

--

I was supposed to read this one months ago it seems like. But then review books got in the way and then I was trying to play the game of reading authors' books before I see them at a signing!
4.

THE WINNER'S CURSE

by Marie Rutkoski

--

Marie will be coming to St. Louis in May, so I'm hoping to binge this trilogy towards the end of the month!
5.

DOROTHY MUST DIE: STORIES VOL 2

by Danielle Paige

--

I've only read one of these novellas and plan to read the other two soonish as well! Preferably before the final book comes out. Not that it matters since these are prequel novellas, but I'm weird like that! ;)
6.

WINK POPPY MIDNIGHT

by April Genevieve Tucholke

--

the only one that's not currently in my TBR pile! But will be by next week and I'm hoping that I can read it just before the signing where I see April! It comes out the 3/22 and the signing is 3/25, it'll be close!
7.

MIDNIGHT MARKED

by Chloe Neill

--

I got this for review and so excited to read it! I LOVE this series! And yet, I am not ready for it to end!!
8.

VISION IN SILVER

by Anne Bishop

--

behind in this series and this was a review book from last year as well as getting the 4th one last week!! Or the week before! Something like that!
9.

THE FORBIDDEN WISH

by Jessica Khoury

--

really excited for this one! Love a good retelling and reviews have been positive for this one!
10.

THE SHADOW QUEEN

by C.J. Redwine

--

another fairy tale retelling I am really looking forward to!!!