Here are the rules:

1. Grab your current read
2. Open to a page
3. Pick out 2 lines that are SPOILER FREE
4. Name the title, author, etc
"

And this

time I wouldn't kill just in service of Safraella. No.

This time it would also be for me."

p 58
TITLE: Assassin's Heart
AUTHOR:

Sarah Ahiers
PUBLISHER:
HarperTeen
GENRE:
Fantasy YA
RELEASE DATE:
February 2, 2016
Top Ten Tuesday is an original feature/weekly meme created at The Broke and the Bookish. This feature was created because we are particularly fond of lists here at The Broke and the Bookish. We'd love to share our lists with other bookish folks and would LOVE to see your top ten lists!

Each week we will post a new Top Ten list that one of our bloggers here at The Broke and the Bookish will answer. Everyone is welcome to join. All we ask is that you link back to The Broke and the Bookish on your own Top Ten Tuesday post AND add your name to the Linky widget so that everyone can check out other bloggers lists! If you don't have a blog, just post your answers as a comment. Have fun with it! It's a fun way to get to know your fellow bloggers.
This week's topic is:
Ten Books I Enjoyed Recently (last yearish) That Weren't My Typical Genre/Type of Book
1.

INTO THE DIM

by Janet B. Taylor

--

With time travel books it can be very hit or miss for me. But I was intrigued with this original cover art! I don't know why, it just caught my attention and I became intrigued! So I requested an ARC, got it, read it and LOVED it!!
2.

THE DIVINERS

by Libba Bray

--

this was one I was intimidated by its size, plus it was in a past setting. I thought I wouldn't like it, but I took a chance on it, because I knew the author was coming to St. Louis for the second book's release. So I bought it, read it, and again, LOVED it!
3.

SOUNDLESS

by Richelle Mead

--

I wasn't sure about this one. I enjoy a good fantasy, but there was no magic really in this one. Nothing to entice me, but yet, I rather enjoyed it!
4.

THE DRAFTER

by Kim Harrison

--

I loved Kim's Hollow series, but this one was without paranormal peeps, so I was a bit worried about enjoying it. But it was still rather intriguing with the whole time aspect. It was a little rough around the edges, but I chalked that up to first book syndrome! Hoping this series gets to go further!
5.

THE SHATTERED COURT

by M.J. Scott

--

this was my first book by this author and it was a total random request on Netgalley. I didn't think that this would be one I would LOVE, but I was actually surprised with how much I enjoyed it!
6.

AN EMBER IN THE ASHES

by Sabaa Tahir

--

this was one of those everyone loves it kinds of reads. So naturally I was curious, but a bit hesitant based on the setting and such. It was a rather incredible read though! Cannot wait for the next book!
7.

NEARLY GONE

by Elle Cosimano

--

I was intrigued by this book from the getgo! I was going to RT the year it released and saw the author would be there, so naturally I picked it up. But then hesitancy kicked in when I read some not so happy reviews. But I actually really enjoyed it! It was a creepy mystery and I loved that Nearly had a special power to make things even more intriguing!
8.

BETWEEN THE LINES

by Jodi Picoult & Samantha Van Leer

--

I was a tad worried with this one as well. Jodi is famous for her contemporary books, but this had a fantasy-ish feel to it! I mean characters from a book coming out of it, or at least communicating with one another once the book was closed! There were mixed reviews but I was still determined to read it and finally did last year! It was a bit simplistic in some sense, but still enjoyable!
9.

THE WITCH HUNTER

by Virgina Boecker

--

another Netgalley request that was whimsy! It was a bit more of a period fantasy kind of read, but what with witches and such, I thought it would be interesting enough! And it was better than I expected!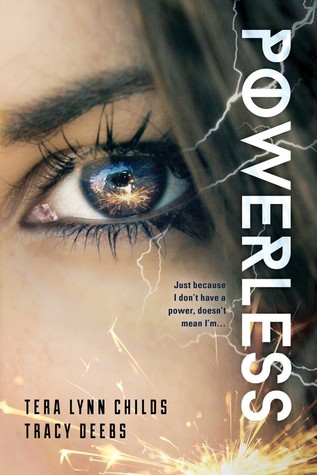 10.

POWERLESS

by Tera Lynn Childs & Tracy Deebs

-

-

I had read Tracy's books previously and really enjoyed them, but hadn't read Tera. Plus the book was more about superheroes and villains vs paranormal peeps. But I was still interested, because Tracy Deebs!! And oh wow! This book was SO incredible! Cannot wait for the next one!