Here are the rules:

1. Grab your current read
2. Open to a page
3. Pick out 2 lines that are SPOILER FREE
4. Name the title, author, etc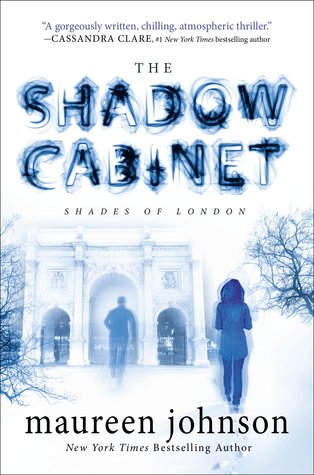 "

'What do you mean, you did what you had to do?' He sounded angry. 'Rory, what exactly did you do?'" p 264
TITLE: The Shadow Cabinet
AUTHOR:

Maureen Johnson
PUBLISHER:
Putnam Juevnille
GENRE:
Paranormal YA
RELEASE DATE:
February 10, 2015
Top Ten Tuesday is an original feature/weekly meme created at The Broke and the Bookish. This feature was created because we are particularly fond of lists here at The Broke and the Bookish. We'd love to share our lists with other bookish folks and would LOVE to see your top ten lists!

Each week we will post a new Top Ten list that one of our bloggers here at The Broke and the Bookish will answer. Everyone is welcome to join. All we ask is that you link back to The Broke and the Bookish on your own Top Ten Tuesday post AND add your name to the Linky widget so that everyone can check out other bloggers lists! If you don't have a blog, just post your answers as a comment. Have fun with it! It's a fun way to get to know your fellow bloggers.
This week's topic is:

Top Ten One True Pairs!
1.

CAT & BONES

--

love these two!! Also, really dying to find out who Ethan's sweetheart is, because it's been sooo long since I've read these books, I truly have no clue!
2.

KAT & DAEMON

--

what's not to love? Kat never took Daemon's crap and I love Daemon's snarkiness and how he really does care and all that!
3.

FEYRE & TAMLIN

--

our newest

Beauty and the Beast

, and omg I LOVE this story so hard!!
4. YELENA & VALEK--

love how these two are together! There's never any of that triangle or breaking up nonsense with these two!
5.

MERIT & ETHAN

--

another couple to adore! Merit never took Ethan's crap either and I think that's what drew him to her!
6.

CRESS & THORNE

--

my favorite couple from the

Lunar Chronicles

! Cress totally had that Rapunzel-new-to-the-world vibe, but I love how while it seemed like an insta-love with her and Thorne, it really took longer than that!
7.

ELENA & CLAY

--the first Otherworld couple and still my most favorite!
8.

NYX & IGNIFEX

--

a beautiful

Beauty and the Beast

retelling! Love the slow burning romance between these two!
9.

SERENA & HUNTER

--the only "adult" couple from the Lux world...that we've seen at least! And I think I love them just as much as Katy and Daemon!
10.

CHARLEY & REYES

--

looove these two! Charley is so funny and spunky and Reyes is unbelievably sexy and mysterious! So behind in this series but hoping to get caught up this year!