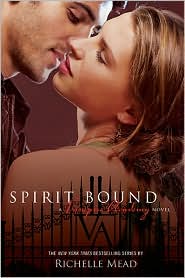 SALVATION HAS ITS PRICE...
After a long and heartbreaking journey to Siberia, Dimitri's birthplace, Rose Hathaway has finally returned to St. Vladimir's--and to her best friend, Lissa Dragomir. It's graduation, and the girls can't wait for their real lives outside of the academy's cold iron gates to finally begin. But even with the intrigue and excitement of court life looming, Rose's heart still aches for Dimitri. He's out there, somewhere.
She failed to kill him when she had the chance, and now her worst fears are about to come true. Dimitri has tasted her blood, and she knows in her heart that he is hunting her. And if Rose won't join him, he won't rest until he has silenced her...
forever.
But Rose can't forget what she learned on her journey--whispers of a magic too impossible and terrifying to comprehend. A magic inextricably tied to Lissa that could hold the answer to all of Rose's prayers, but not without devastating consequences. Now Rose will have to decide what--and
who--
matters most to her. And in the end, is true love really worth the price?
Fall in love with Rose and Dimitri all over again in
Spirit Bound
, the eagerly awaited fifth novel in Richelle Mead's enthralling
Vampire Academy
series.
Spent the entire day reading and it was sooo worth it!
Spirit Bound
was totally TOTALLY awesome. Will try to contain my excitement in this review and of course I can't talk too much because a lot happened and I don't want to lead to spoilers.
Basically the chapter that was in the
Special Edition of Vampire Academy
(book 1) was fairly accurate. That's where the story starts and from the cover flap you know Rose and Lissa are out of the academy now which means Rose is an open target for Dimitri who is still after her, hunting her. He had been sending her eerie letters that were disturbing, basically telling her he was coming for her and just being insanely creepy about. After reading
Blood Promise
and seeing his behavior there, you can imagine how upset Rose is by his letters.
But Rose has been trying to move on with her life, which is noted at the end of
Blood Promise
as well, she is giving Adrian a shot at a relationship because he cares for her. It was interesting, Team Adrian fans will be pleased because Adrian is constantly there for Rose throughout the book while Rose is determined to do what she was set out to do at the end of
Blood Promise
and that is trying to save Dimitri from his life as a Strigoi.
I love this series, I seriously have to thank my friends Aly and Cem from
the Pride
for making me reading this because I am totally addicted to it! Have been since the beginning. Richelle takes a new spin on vampires, of course there is no general vampire nowadays and I LOVE that! I've been reading vampire books since I was 13 and no two books are the same.
The book was well paced too. It eases into each event moving from the plotting to the planning to the acting and then the aftermath which starts up the next task or problem. All done very smoothly.
You gotta love these characters too. Rose is an amazing heroine because she started out almost unlikable in book 1, I'll admit I didn't really care for her that much through the first book, but really came to adore her by the end and then I was hooked for life. Now I totally feel for her, her emotions match my emotions based on the events that take place. And there are quite a few of them.
Other characters return as well such as her friends, Lissa, Christian and a few more. I don't want to get too far into the relationships, but for the most part things are unchanged. But as the book progresses the relationships change as well.
There are several exciting events in the book that I won't talk about, only that they are exciting! And the ending, oh god, it's one of those endings like
Blood Promise
, you are left dying to know what the next step is. Like my friend Cem said at her
blog
, it's not as agonizing as
Shadow Kiss
, but still sort of cliffhanger like. Well the good news is that on December 7, we'll have our answer! That's better than 2011!
Spirit Bound
is a must read, as is the Vampire Academy series if you have not read it yet. Where have you been? :) Like I said, vampires are taken differently here than in other YA vampire books and this is a series you do not want to miss out on. It's almost over as well, since the next book
Last Sacrifice
concludes Rose's story. There are supposedly going to be another set of Vampire Academy books with different characters, but Rose has been a fun character to grow with and I've enjoyed her story.