Here are the rules:

1. Grab your current read
2. Open to a page
3. Pick out 2 lines that are SPOILER FREE
4. Name the title, author, etc
You won't believe how many times I changed my teaser! I had something funny, then I had something heart-racing--though I had to admit a spoiler from it, but then I read this one and it had me chuckling once again!
"'So I've been told. Now, put your clothes on, and eat some bacon like a good girl.'





'Yes, master,' I grumbled, but I was smiling.





And so was he."

*


*Quote comes from ARC, therefore it and its page number are not final.






TITLE: Cold Burn of Magic
AUTHOR:

Jennifer Estep
PUBLISHER:
K-Teen
GENRE:
Paranormal YA
RELEASE DATE:
April 28, 2015
Top Ten Tuesday is an original feature/weekly meme created at The Broke and the Bookish. This feature was created because we are particularly fond of lists here at The Broke and the Bookish. We'd love to share our lists with other bookish folks and would LOVE to see your top ten lists!

Each week we will post a new Top Ten list that one of our bloggers here at The Broke and the Bookish will answer. Everyone is welcome to join. All we ask is that you link back to The Broke and the Bookish on your own Top Ten Tuesday post AND add your name to the Linky widget so that everyone can check out other bloggers lists! If you don't have a blog, just post your answers as a comment. Have fun with it! It's a fun way to get to know your fellow bloggers.
This week's topic is:
Top Ten Books You Would Classify As ALL TIME FAVORITE BOOKS from the past 3 years
Crud...this will be harder than I thought! It's going to be more like 10 books that I would classify as my fave of all time, but more so for its place in the series...or something! EERGGH! This is too hard! Basically, these 10 are ones that I LOOOOOOVED!
1. DIRE by Alyssa Rose Ivy--

went gaga over this one! Looooooved it!! It's one of those books you just love so hard, but stutter at explaining why! Because there are SO many reasons!
2.

WICKED

by Jennifer L. Armentrout

--

a JLA book is always bound to make the list because this woman is INCREDIBLE! I bow to her in all the realms of writing but she just has that knack! And I adored this one!! The world and characters were amazing as always!
3.

GATHERING DARKNESS

by Morgan Rhodes

--a series that truly gets better as we go along and oh wow, this one blew me away! Can we please have Frozen Tides now?! Is it December? Seriously, let's just skip 2015! LOL!
4.

SHADOW STUDY

by Maria V. Snyder

--

Yelena is back! And so is the gang!! LOOOOOVED seeing them again! It's been too long since Yelena and crew were the main characters! I enjoyed Opal and Avry, but I'm glad we have another trilogy with Yelena!
5.

DEAD OF WINTER

by Kresley Cole

--

the series that drives me insane, but in the oh so delightful way! It's so wonderfully written! I love the characters! The setting is SO intense, the drama, the action, the romance!! EEP! Girlish squeals induced!
6. KISS OF DECEPTION by Mary E. Pearson--

the book I almost didn't read, because we all say that love triangle right in the description, but then reviews came in and then I read it and OMG! OMG!! I looooooved this one!! Dying for the next book too!
7.

OBSESSION

by Jennifer L. Armentrout

--

YES! I loooooved this one!! Taking place in the Lux world but told through adults! And the "enemy" so to speak! SQUEE!!
8.

OBSIDIAN

by Jennifer L. Armentrout

--

yup, read this series somewhere in the past 3 years too! And OMG what the freak took me so long?! I loved it!! So so so loved it! Hell yes to the book blogging heroine!!!
9.

DOROTHY MUST DIE

by Danielle Paige

--

LOVED this one!! I was never a die hard Oz fan, but I liked it. I positively loved this re-imagined world of Oz! It is just so intriguing and fresh!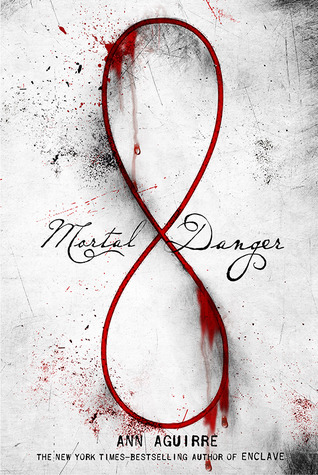 10.

MORTAL DANGER

by Ann Aguirre

--

this was an intense read! And I loved it! There were some pretty real life moments in this one and Edie was a character who amazed me with her strength! There were times when she definitely took the high road, I don't think I could've been that strong. Though she did get her revenge in baby steps in the beginning, but naturally the ending took a whole new spin to things and I am dying for the next one...as usual!