Here are the rules:

1. Grab your current read
2. Open to a page
3. Pick out 2 lines that are SPOILER FREE
4. Name the title, author, etc
I changed this teaser numerous times, this was the most recent one I read that had me grinning! And look! I followed the rules this time! It's a MIRACLE!
"'It's the middle of the night, and you want to run away with me,' Loki said. 'What will you tell your husband?'"

p. 128















TITLE: Ascend
AUTHOR:

Amanda Hocking
PUBLISHER:
St. Martin's Griffin
GENRE:
Paranormal YA
RELEASE DATE:
April 24, 2012
Top Ten Tuesday is an original feature/weekly meme created at The Broke and the Bookish. This feature was created because we are particularly fond of lists here at The Broke and the Bookish. We'd love to share our lists with other bookish folks and would LOVE to see your top ten lists!

Each week we will post a new Top Ten list that one of our bloggers here at The Broke and the Bookish will answer. Everyone is welcome to join. All we ask is that you link back to The Broke and the Bookish on your own Top Ten Tuesday post AND add your name to the Linky widget so that everyone can check out other bloggers lists! If you don't have a blog, just post your answers as a comment. Have fun with it! It's a fun way to get to know your fellow bloggers.
This week's topic is:
Top 10 Books From My Childhood (Or teen years) That I Would Love To Revisit
Regular followers of my blog are gonna see some favorites that I talk about quite a bit when we get on nostalgic topics! ;)
Also note, I'll be using older covers, the covers I have basically! So when you go to Goodreads, you'll most likely see something else come up instead. Be forewarned about that! ;)
1.

DEMON IN MY VIEW

by Amelia Atwater-Rhodes

--my much talked about favorite as a teen! This was my first vampire book! The one that started what was to become my obsession! Of course, try finding a paranormal book in the YA section back in 2001, that is what we call difficult to near impossible! But I did find some rare treasured gems!
2.

OLD MAGIC

by Marianne Curley

--

yet another beloved fave from my teen years! And in 2002! This one was about magic, time traveling, love, curses...all that good stuff!
3.

THE FORBIDDEN GAME TRILOGY

by L.J. Smith

--

I read this series by L.J. before

Vampire Diaries

and basically LOVED it!! Was such an unexpected kind of series and I still get gushy feels over it! It feels like forever ago, but L.J. mentioned something about there going to be a 4th book, but I've yet to find new info on that. :(
4.

THE MEDIATOR SERIES

by Jenny Carroll/Meg Cabot

--

LOVED this series! Discovered it early on in my teens and was blown away! It was exactly the kind of read I was looking for! PARANORMAL! And there's going to be a BOOK 7 NEXT YEAR!! So incredibly excited about that I tell you!!! :D
5.

THE GUARDIANS OF TIME TRILOGY

by Marianne Curley

--

yet another amazing series!! Loved it! More magic and time traveling, but different. There's good guys and bad guys, bad guys want to change time and the good guys are trying to stop them. Cause you know changing the events of history will change the future! Dun dun DUN!!!!
6.

ROSWELL SERIES

by Multiple Authors

--

yes I was addicted to the Roswell books! I read ALL of them! There was Roswell High, which is what the show was based off of, because there were a lot of differences to it. Then there was a suspense series which took events of an episode further, there was 3 books in that series! And then two more "series" in sets of 4! I particularly loved reading the last one which showed us what the gang was up to after fleeing Roswell!! So yeah, I read these in my teen years too!
7.

WICKED SERIES

by Nancy Holder & Debbie Viguie

--

oh how I loved this series!! Feuding witch and sorcerer families, yet so many of them are having all these relationships...this series definitely had its shocks and twists!! I LOOOOVED it! I read it when it was originally published, so I suffered a good 6 years until

Resurrection

came out! Which is why I have hope that Gena Showalter's Intertwined series can come back and give me us its finale! ;)
8.

BLOOD AND CHOCOLATE

by Annette Curtis Klause

--

ohhh this one was sooooo good!! I loved it! I think I might have even re-read it back in the day! Miss doing that! This one was just so incredible and unexpected!! Though to note, if you see its movie version they are ENTIRELY different! Seriously only the character NAMES are the same! The movie was good though, you just have to completely and utterly separate it from the book, because naturally, the book was WAY better! ;)
9.

BLUE IS FOR NIGHTMARES SERIES

by Laurie Faria Stolarz

--

this was yet another awesome series! It was light on the paranormal, though there's still a nice dose of it in there! But it had an incredible mystery feel to it! I felt like I had another gap somewhere in this one, possibly between books 3 & 4, but it might have been because I wasn't as savvy with learning about new releases back then! Scary times! But this was an awesome series!!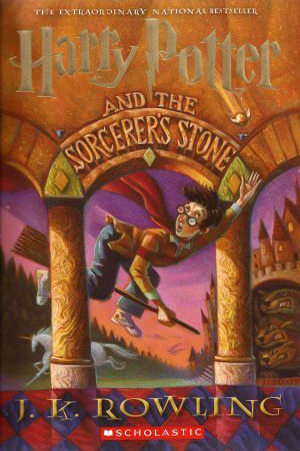 10.

HARRY POTTER SERIES

by J.K. Rowling

--

naturally! I mean I was in the 6th grade--so 2000, starting to feel old! This was even published in 97! So I was late to the game!--when I read this one! And I still remember thinking I wouldn't like it because a boy was the main character. I was young, I was wanting girl heroines, but then our teacher started reading it to us and omg, I was kind of into it! And then I think it was my grandma who bought it for me for Xmas that year and I got to read it at my own pace! Still remember reading this one past my bedtime too, because HARRY POTTER!!! :D