Here are the rules:


1. Grab your current read
2. Open to a page
3. Pick out 2 lines that are SPOILER FREE
4. Name the title, author, etc.
Okay, time to be bad! I couldn't decide betwe

en two teasers, so naturally I am choosing both!! And also naturally, they are both over two lines! ;)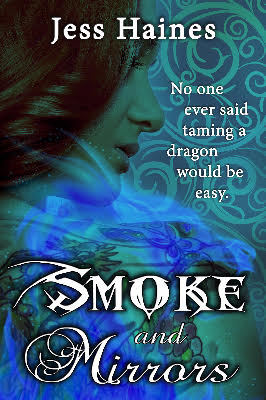 "'No one is going to see her naked but me.'



Kimberly huffed, her cheeks flaming with embarrassment. 'Oh my God, no one is going to see me naked! I can shower myself!'



Cormac frowned, peering down at her with a

wistful expression. 'Are you sure? I certainly wouldn't mind.'"

Kindle loc.

59%

*


"Heather

closed her eyes, gritting her teeth.

'I'm

not even going to ask why you need a bodyguard. I'm not sure I want to know. But I do want you safe. M

r. Hunter--Cormac--dragon

...

person

. I

appreciate you offering to protect my daughter--but

I want you to know that if you do a thing to hurt my little girl, I don't car

e what you are. I will hunt you down.'"

Kindle loc. 83%

*


*Quotes comes from the eARC, therefore it and its location are not final.
TITLE: Smoke and Mirrors
AUTHOR:

Jess Haines
PUBLISHER:
Smashwords
GENRE:
Urban Fantasy
RELEASE DATE:
May 1, 2016
Top Ten Tuesday is an original feature/weekly meme created at The Broke and the Bookish. This feature was created because we are particularly fond of lists here at The Broke and the Bookish. We'd love to share our lists with other bookish folks and would LOVE to see your top ten lists!

Each week we will post a new Top Ten list that one of our bloggers here at The Broke and the Bookish will answer. Everyone is welcome to join. All we ask is that you link back to The Broke and the Bookish on your own Top Ten Tuesday post AND add your name to the Linky widget so that everyone can check out other bloggers lists! If you don't have a blog, just post your answers as a comment. Have fun with it! It's a fun way to get to know your fellow bloggers.
This week's topic is:
Ten Teen Years & Childhood Characters You'd Love To Revisit As Adults
1.

HARRY & CO.

--

no explanation necessary
2.

JESSICA & AUBREY

--my first vampire novel. The one that hooked me into paranormal reads and never wanting to read an ordinary setting book again!
3.

KATE & JARROD

--my first Aussie read and my first time-traveling one too! Oh how I ADORED these characters and the magic and the romance and the time traveling! It was all soooo MAGICAL! LOL!
4.

SUZE & JESSE

--

how I would love to re-read this series including its most recent addition again!! It was such an incredible read and I adored every moment and book of it! And Discovering books 5, 6, and 7 were just oh so wonderful delights!! (Ignoring the fact that buying book 7 is what led to my cc problems, it's not the book's fault though!)
5.

JESSICA & CO.

--

my MOST favorite fairy tale retelling from the Once Upon a Time series!! If you struggled with Liz Braswell's Disney retellings, I highly recommend this one despite all that! This one was AMAZING!!
6.

THE RANDOM HOUSE BOOK OF FAIRY TALES

--this was one I checked out endlessly from the library when I was in elementary school! I loved all the fairy tales in it! It was a wide collection of them! It was where I also got my first taste of Grimm fairy tales as Snow White was in it! That one wasn't as "grim" as say Cinderella, but I enjoyed reading this fuller version than what I knew from Disney!
7.

DISNEY CLASSICS

--

okay not sure where to lump this one! But we had all these Disney books that might have been mail ordered subscription or grocery store buys...I can't remember! They were just always on the shelf at my grandparents house! Some were original Disney stories or some were the Disney movies told in storybook format and some were just stories told Disney style, because apparently The Princess Who Never Laughed was a storybook before this one! I just always remembered reading this one, because Goofy was hilarious when he wasn't even trying to be and yet that Princess never even smirked...at first! ;)
8.

STREGA NONA

--

took me a loooong time to get this name right! Luckily I was close enough that Goodreads jumped in to the rescue! I remember being read this in elementary school as well! I thought it was pretty funny and how ol' Strega Nona showed Big Anthony how it was done!
9.

THE RAINBOW FISH

--

another delightful tale from childhood! A good moral lesson in what it means to have friends and appearances and all that! Good emphasis on sharing too! Though...I don't think it necessary means to rip off your body parts and share with friends...but I guess it's different when you're a fish! LOL!
10.

DEAR AMERICA DIARIES

--

I never read a lot of these, nowhere near even half since there were sooo many! But I found these to be quite enjoyable! Firstly, "Diary" books are always kind of fun in some sense! And then to have one with a girl on Titanic!! Yeah, this was one that stuck with me in some ways! Plus, you do get a bit of a history lesson. However small. And there was always a section of historical notes in back so you knew how realistic the diary was. And yeah...I think the author at the time knew it was probably a cash crop to write this one a year(ish) after the movie Titanic came out! I think we were all hoping to see Jack (Leo) walking around! LOL!