Here are the rules:


1. Grab your current read
2. Open to a page
3. Pick out 2 lines that are SPOILER FREE
4. Name the title, author, etc.
WARNING! The second teaser I'm to share is not for the faint of heart! Please remember, this is just 1 book and 1 character's words!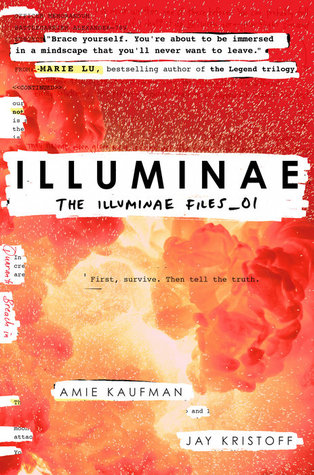 "I only know one thing for sure.





Whatever they don't want me to see, that's where I'm digging. I need to be where the secrets are.





I'm more interested in ensuring I have a future than they think."

p 124
"Zhang, B: Wole Soyinka said that. he was a writer, back in 20C. studied him in college. wrote about injustice. Plays, poems, books, good stuff. u should read him





ByteMe: what's a book?





Zhang, B: ..."

p 200
TITLE: Illuminae
AUTHORS:

Amie Kaufman

&

Jay Kristoff
PUBLISHER:
Knopf Books for Young Readers
GENRE:
Dystopian YA
RELEASE DATE:
October 20, 2015
Top Ten Tuesday is an original feature/weekly meme created at The Broke and the Bookish. This feature was created because we are particularly fond of lists here at The Broke and the Bookish. We'd love to share our lists with other bookish folks and would LOVE to see your top ten lists!

Each week we will post a new Top Ten list that one of our bloggers here at The Broke and the Bookish will answer. Everyone is welcome to join. All we ask is that you link back to The Broke and the Bookish on your own Top Ten Tuesday post AND add your name to the Linky widget so that everyone can check out other bloggers lists! If you don't have a blog, just post your answers as a comment. Have fun with it! It's a fun way to get to know your fellow bloggers.
This week's topic is:
Beach Reads Week--Top 10 Books I'd Read on the Beach!
Note these aren't really "beachy" reads. I've never been to a beach really, so I don't know what's considered a "beach read".
1.

A COURT OF MIST AND FURY

by Sarah J. Maas

--

so yeah...it's really long, but I am actually planning on saving this for the long drive to Florida this summer. Which is around 16-17 hours I think? And we might go to a beach one day while we're there too! So who knows! Plus, I have Irish white skin from my mom's side, I could use some sun! LOL!
2.

THE ROSE AND THE DAGGER

by Renee Ahdieh

--

I think this would be a fun summer/beach read. Yeah, it's already deserty so why not read it during the summer! St. Louis is hot & humid like a desert too!
3.

EIGHTH GRAVE AFTER DARK

by Darynda Jones

--

I chose 8 instead of the upcoming 10 because I need to read this one still! LOL! These are always fun reads, so perfect for the beach!
4.

A GHOUL'S GUIDE TO LOVE AND MURDER

by Victoria Laurie

--

I am behind in all my mystery series apparently! It's sad because I adore them all! I think all of them would make great beach reads! This one is also the series finale and I'm not quite ready to say goodbye yet!
5.

SENSE OF DECEPTION

by Victoria Laurie

--

again with the behind on my mystery reads! I do adore Victoria's books though, so hopefully I can read these this summer!
6.

SPELLCASTING IN SILK

by Juliet Blackwell

--

another mystery author I love! These are what I call Cozy Paranormal Mysteries! Insert that paranormal there! They're all a lot of fun and I really need to get back to them! I am like 99% certain I still need to read this one and not the one before it! LOL!
7.

KEEPER OF THE CASTLE

by Juliet Blackwell

--

her other series that I am also behind in! Still need to read this one!!
8.

SLEEP NO MORE

by Aprilynne Pike

--

the perfect summer read is one to scare you silly! This is one of the many thrillers I still need to read!
9.

TORN

by Jennifer L. Armentrout

--

Goodreads and her website say July 19th as the release date, so this is a perfect read for summer!! Why you ask? It's Jennifer L. Armentrout of course!
10.

JAWS

by Peter Benchley

--

what's a more perfect beach read than one about a shark that will eat you alive if you decide to go swim in the ocean...next to the beach! LOL! Yeah, a bit weird with this one, but I loved the movie growing up! Read the book some years later and found it to be the first instance where I enjoyed the movie better. GASP! I know!!! It's dreadful. But I had watched the movie like a 1000 times before finally reading the book at an appropriate age, so it's a given I'd like the movie more.