Here are the rules:

1. Grab your current read
2. Open to a page
3. Pick out 2 lines that are SPOILER FREE
4. Name the title, author, etc.
This one got a reaction out of me! I

ask

you, do you think

she's genuine or sarcastic?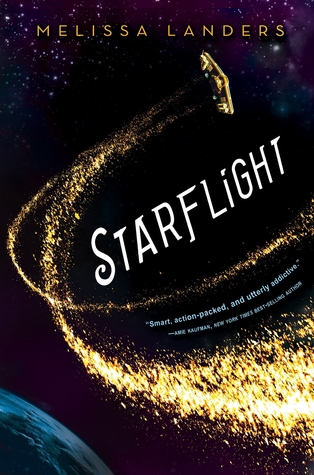 "

'Kiss me

, Doran,' she cried, flopping onto the mat

tress with one arm slung over her eyes and the other clutched to her

b

rea

st

. 'I burn for you

, hotter than a thousand hells.'"

p 62
TITLE: Starflight
AUTHOR:

Melissa Landers
PUBLISHER:
Disney-Hyperion
GENRE:
Sci-Fi YA
RELEASE DATE:
February 2, 2016
Top Ten Tuesday is an original feature/weekly meme created at The Broke and the Bookish. This feature was created because we are particularly fond of lists here at The Broke and the Bookish. We'd love to share our lists with other bookish folks and would LOVE to see your top ten lists!

Each week we will post a new Top Ten list that one of our bloggers here at The Broke and the Bookish will answer. Everyone is welcome to join. All we ask is that you link back to The Broke and the Bookish on your own Top Ten Tuesday post AND add your name to the Linky widget so that everyone can check out other bloggers lists! If you don't have a blog, just post your answers as a comment. Have fun with it! It's a fun way to get to know your fellow bloggers.
This week's topic is:
Ten Books You'd Buy Right This Second If Someone Handed You A Fully Loaded Gift Card
1.

ROARING DAWN

by Colleen Gleason

--

still need to read book 2, but I love this spinoff series!!
2.

IMPULSE

by Vanessa Garden

--

never did get to read this one sadly, think because of territory rights. I would immediately track down a copy on Abe Books. So pricey though. I mean it's reasonable, just not right now.
3.

THE HAUNTED MANSION: IMAGINEERING A DISNEY CLASSIC

by Jason Surrell

--

saw this at a store while on vacation, but sadly, my family was ready to go so I couldn't look into it further to see if I needed to buy right then. It's on my wishlist for the time being!
4.

FORGED IN FIRE

by Alyssa Rose Ivy

--

usually I'm on her review list but I guess she forgot this time around. So I still haven't read this one despite loving her paranormal titles!
5.

THE SHIFTER ROMANCES THE WRITER

by Kristen Painter

--

again, normally I'm on the review list for Kristen, but again, I guess something happened and my name got forgotten for this last one! Been so busy with other review books and event books that I haven't had time to buy either one just yet.
6.

DARK KISS OF THE REAPER

by Kristen Painter

--

found one of her older titles that I've had my eye on for awhile! Definitely one I wouldn't mind reading eventually!
7.

TOUCH OF POWER

by Maria V. Snyder

--

looove these new covers of the Australian edition for the Healer series! I have a ton of Maria's international covers on my wishlist, so I'd probably choose some of them too!
8.

SCENT OF MAGIC

by Maria V. Snyder

--

can't start buying the trilogy and not finish it up!
9.

TASTE OF DARKNESS

by Maria V. Snyder

--

ditto!
10.

THE ART OF DISNEY'S DRAGONS

by Tom Bancroft

--

another book I thought I would be getting for review. Might have to contact my Disney contact I made at BEA. But I always hate doing that, I feel like I'm nagging.