Here are the rules:

1. Grab your current read
2. Open to a page
3. Pick out 2 lines that are SPOILER FREE
4. Name the title, author, etc.
"He pushed himself up onto his elbows and twisted his neck. Broken bones popped back together with a hideous sound. 'But I appreciate the sentiment.'





'I broke your neck,' Athena said."

p 175
TITLE: Mortal Gods
AUTHOR:

Kendare Blake
PUBLISHER:
Tor Teen
GENRE:
Paranormal Fantasy YA
RELEASE DATE:
October 14, 2014
Top Ten Tuesday is an original feature/weekly meme created at The Broke and the Bookish. This feature was created because we are particularly fond of lists here at The Broke and the Bookish. We'd love to share our lists with other bookish folks and would LOVE to see your top ten lists!

Each week we will post a new Top Ten list that one of our bloggers here at The Broke and the Bookish will answer. Everyone is welcome to join. All we ask is that you link back to The Broke and the Bookish on your own Top Ten Tuesday post AND add your name to the Linky widget so that everyone can check out other bloggers lists! If you don't have a blog, just post your answers as a comment. Have fun with it! It's a fun way to get to know your fellow bloggers.
This week's topic is:
Back To School Freebie--Required Reading for Fantasy Fans
10.

TOUCH OF POWER

by Maria V. Snyder

--

pretty much any of Maria's books are required! This one is a trilogy that's separate from her previous one which connect in the same world! Still fabulous reading!
9.

FALLING KINGDOMS

by Morgan Rhodes

--

this one blew me away! I absolutely love it! The multiple points of view can be overwhelming at first, but soon you get used to it and are totally enthralled with them and their world!
8.

A COURT OF THORNS AND ROSES

by Sarah J. Maas

--

totally remarkable! We got fantasy, fairy tale retelling and involvement of the fae! How more incredible can this one get?! I REALLY need to read the second one already!
7.

THE KISS OF DECEPTION

by Mary E. Pearson

--

this one was awesome! Not only the whole mystery of who's who, but there was a good deal of action and so much more!
6.

PRINCESS OF THORNS

by Stacy Jay

--

a sort of fantasy/fairy tale retelling! And another incredible one too!
5.

AN EMBER IN THE ASHES

by Sabaa Tahir

--

this series is so amazing!! And I just heard that book 3 won't release until 2018! Oh the agony!! And I just read the ARC two weeks ago!! AHHH!!!
4.

THE WRATH & THE DAWN

by Renee Ahdieh

--

another fairy tale retelling/fantasy mix! And another amazing one! Still gotta finish the duology up still! LOL!
3.

CRUEL BEAUTY

by Rosamund Hodge

--

this too is a fairy tale retelling, yet still fantasy. I think those two genres can go hand in hand at times.
2.

RED QUEEN

by Victoria Aveyard

--

another amazing series that I must continue, though I heard of cliffhangers in the second book, so I held off! LOL!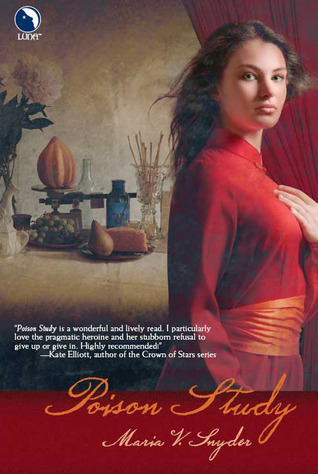 1.

POISON STUDY

by Maria V. Snyder

--

because I can't not mention it! This was probably my first fantasy read outside of fairy tales and still remains one of my most beloved favorites! There's magic, posions, romance, adventure, action...it has it all!!!