Here are the rules:

1. Grab your current read
2. Open to a page
3. Pick out 2 lines that are SPOILER FREE
4. Name the title, author, etc.
You shall now fear ever going to the bathroom again!! Read on if you dare!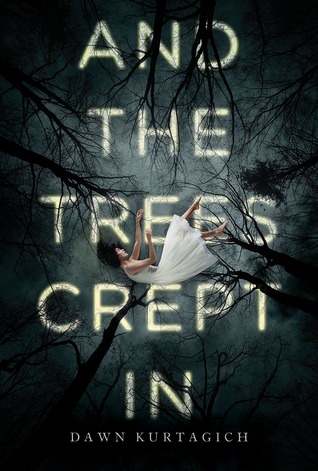 "I was on the toilet, midstream, when I felt movement in the bowl. At first, I ignored it, but then I felt smoothness, tickling between my legs. I jolted with fright and looked down.





And screamed.



Scales, shining under the lam

p, two territorial eyes--cold-blooded and cunning--

and a

forked

tongue, darting out from between my le

gs."

p 20*
*This quote comes from the ARC and therefore it and its page number are not final.
TITLE: And the Trees Crept In
AUTHOR:

Dawn Kurtagich
PUBLISHER:
Little, Brown Books for Young Readers
GENRE:
Horror YA
RELEASE DATE:
September 6, 2016
Top Ten Tuesday is an original feature/weekly meme created at The Broke and the Bookish. This feature was created because we are particularly fond of lists here at The Broke and the Bookish. We'd love to share our lists with other bookish folks and would LOVE to see your top ten lists!

Each week we will post a new Top Ten list that one of our bloggers here at The Broke and the Bookish will answer. Everyone is welcome to join. All we ask is that you link back to The Broke and the Bookish on your own Top Ten Tuesday post AND add your name to the Linky widget so that everyone can check out other bloggers lists! If you don't have a blog, just post your answers as a comment. Have fun with it! It's a fun way to get to know your fellow bloggers.
This week's topic is:
Ten Books That Have Been On Your Shelf (Or TBR) From Before You Started Blogging That You STILL Haven't Read Yet
Hmm...that might be difficult as most of the books I added to my TBR pile came from blogging. Before blogging I didn't know what a TBR pile was and there were actually times when I did NOT have something new to read! So my post will include books that were added in the beginning days of blogging. So these really all should've been picked up in 2010 and I later added them to Goodreads as I got the hang of it by 2011!
10.

DEAD GIRLS ARE EASY

by Terri Garey

--

this was actually one of my first blogger pals recommendations. I thought it sounded interesting so I bought the whole series at a Borders closing sale. *Sobs*
9.

RUBY RED

by Kerstin Gier

--

this was actually one of my first contest wins! Still need to read this series!
8.

NIGHT WORLD Vol 1-3

by L.J. Smith

--

yup more Borders closing sales acquisitions. Though actually I found the third one at TJ Maxx for $3! Still need to read this series, though I have read one of the individual novels!
7.

DARK VISIONS

by L.J. Smith

--

another TJ Maxx find! Think it was somewhere between $2-4. Can't remember because I took that dreadful sticker off!
6.

THE ROSE BRIDE

by Nancy Holder

--

I bought this one at a signing she and Debbie did for their final (and resurrected) Wicked book! You don't know how excited I was for that one! I bought this because I enjoyed the series I read so far of the retold fairy tales! Never realized how many there were in this particular line!
5.

SCENT OF A WHITE ROSE

by Tish Thawer

--

another blogger recommendation from the early days! Still need to read it, but can't remember what drew me to it! LOL!
4.

SAVOR

by Megan Duncan

--another early day blogger recommendation! And again, can't reme

mber why I wanted to read it! LOL!
3.

DARK HEART FOREVER

by Lee Monroe

--

yet another blogger recommendation from that first year or so! Love werewolves, so I know why I picked it up! LOL!
2.

EMBERS

by Laura Bickle

--

picked this series up at my first RT and still need to read it!! I loved her Alayna Williams series, so I suspect I will love this one too!
1.

TOUCH OF FROST

by Jennifer Estep

--

another one I picked up at my first RT and every RT after that I picked up the next book. Basically have the whole series now and still haven't read this first book!