Here are the rules:

1. Grab your current read
2. Open to a page
3. Pick out 2 lines that are SPOILER FREE
4. Name the title, author, etc.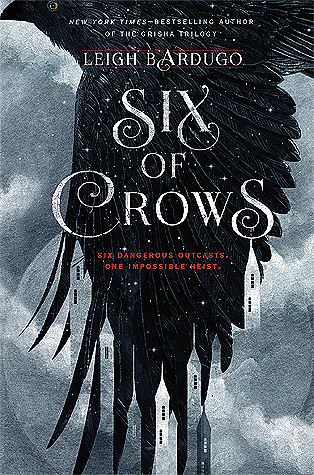 "Inej climbed onto the railing and launched herself from the safety of the balcony, heading for the roof. If they survived the night, she was going to kill Kaz."

p 26
TITLE: Six of Crows
AUTHOR:

Leigh Bardugo
PUBLISHER:
Henry Holt and Company
GENRE:
Fantasy YA
RELEASE DATE:
September 29, 2015
Top Ten Tuesday is an original feature/weekly meme created at The Broke and the Bookish. This feature was created because we are particularly fond of lists here at The Broke and the Bookish. We'd love to share our lists with other bookish folks and would LOVE to see your top ten lists!

Each week we will post a new Top Ten list that one of our bloggers here at The Broke and the Bookish will answer. Everyone is welcome to join. All we ask is that you link back to The Broke and the Bookish on your own Top Ten Tuesday post AND add your name to the Linky widget so that everyone can check out other bloggers lists! If you don't have a blog, just post your answers as a comment. Have fun with it! It's a fun way to get to know your fellow bloggers.
This week's topic is: Top Ten Favorite Villains..and

the Not Hero People (LOL!)
*in no particular order
10. LEVANA--

she was one twisted sister! Although in Fairest, you do kind of feel for her, but still can't help but loathe the woman!
9.

MALONE

--

oh how I wanted this b*st*rd dead from the getgo! Truly

evil villain

material!
8.

THE DARKLING

--

one that doesn't quite fit the villain category necessarily. Until he says his famous line and actually turns into said villain. But I did love the guy, just a little bit!
7.

AL

--

is he villain or he is not? It's tough to say with Al. But I gotta say, I like him!
6.
THE COMMANDANT
--

ohh now this woman is evil! Pure evil! One you love to hate!
5.

THE EMPEROR

--

a man so vile I can't even recall his name! Whoops! Overloaded Reader Memory Loss is truly a disease and I suffer from it! But I do remember him being just despicable!
4.

JARETH

--

another one that makes you ask yourself, is he villain or not? Not friend, for sure, but truly villainous? I mean he's hot for sure! LOL! But that just might be my David Bowie fangirl trying to find the good in him!
3.

ADELINA

--

I've only read this one of the series, but it's definitely one where you see Adelina evolve into a villain. Unless these next two books prove me wrong!
2.

AVARI

--

oh how I hated him!! Rachel writes excellent villains to hate! I hate hate them all! Haha!
And for the #1 pick, I choose the most evil and dastardly villain ever known to

the written word:
1.

DOLORES UMBRIDGE

--

seriously! Voldemort has got nothing compared to her! Lol!