Here are the rules:

1. Grab your current read
2. Open to a page
3. Pick out 2 lines that are SPOILER FREE
4. Name the title, author, etc.
"'You're stupid about a lot of things, Wylan, but you are not stupid. And if I ever hear you call yourself a moron again, I'm going to tell Matthias you tried to kiss Nina. With tongue.'"

p 222
Oh, Jesper! You crack me up with

just about everything you say!! LOL!
TITLE: Crooked Kingdom
AUTHOR:

Leigh Bardugo
PUBLISHER:
Henry Holt and Co.
GENRE:
Fantasy YA
RELEASE DATE:
September 27, 2016
Top Ten Tuesday is an original feature/weekly meme created at The Broke and the Bookish. This feature was created because we are particularly fond of lists here at The Broke and the Bookish. We'd love to share our lists with other bookish folks and would LOVE to see your top ten lists!

Each week we will post a new Top Ten list that one of our bloggers here at The Broke and the Bookish will answer. Everyone is welcome to join. All we ask is that you link back to The Broke and the Bookish on your own Top Ten Tuesday post AND add your name to the Linky widget so that everyone can check out other bloggers lists! If you don't have a blog, just post your answers as a comment. Have fun with it! It's a fun way to get to know your fellow bloggers.
This week's topic is:

Ten Books I've Read Because of Another Blogger (Or Bookish Person)
**ooh this one will be hard! I can't remember all what I picked up based on recommendations of bloggers! I can't remember either if it was specific bloggers who motivated me to get said books or not. Might have been a general consensus kind of thing too!
10.

DEAD GIRLS ARE EASY

by Terri Garey

--

I actually still need to read this one. I remember I read a review on a blog in 2010 I believe and thought it sounded interesting, so I bought a copy of it! Then my beloved Borders was closing its doors forever, so I found the rest of the series during the closing sales and thought, why not?
9.

THIS SAVAGE SONG

by Victoria Schwab

--

saw a lot of love going for this one and at first I didn't know it was a paranormal read, but I have read it and quite enjoyed it!
8.

STARFLIGHT

by Melissa Landers

--

one I started to see around and was curious about it. I enjoyed the reviews I read so I bought it and read it and really liked it too!
7.

DOON

by Carey Corp & Lorie Langdon

--

one that was recommended because of how fantastically awesome it was! It was quite enjoyable! Loved the fantasy world aspect!
6.

PARANORMALCY

by Kiersten White

--

one that I thought was intriguing by the title alone, but all the reviews I read really cinched the deal!
5.

ANGEL BURN

by L.A. Weatherly

--

one that I heard was good based on reviews and really enjoyed it too! Such an intriguing angel story!
4.

SOULLESS

by Gail Carriger

--

this is the series that introduced me to what I call Paranormal Steampunk! LOL! Read a handful of reviews from trusted bloggers that convinced me to try the series out!
3.

OBSIDIAN

by Jennifer L. Armentrout

--

yup. Sadly this one took a few reviews of reading for me to want to try it. Honestly, I was first afraid it would be a rip off of Roswell, which ended up not being the case by a long shot! It was sooo awesome! I don't think it took many reviews before I was running to Amazon! LOL!
2.

VAMPIRE ACADEMY

by Richelle Mead

--

two friends in an old chat room recommended this one to me and told me I HAD to read it! It was during the rise of Paranormal YA and after much badgering I gave it a try and was wowed! Of course I binged the first three books at the time and had the horrendous months long wait until book 4!!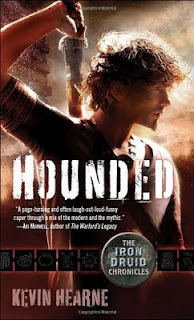 1.

HOUNDED

by Kevin Hearne

--

I read a few reviews of this one and was almost instantly convinced to try it out! It's a bit different from my normal UF reads, but I really like it! Really need to get caught up in it too!