Here are the rules:

1. Grab your current read
2. Open to a page
3. Pick out 2 lines that are SPOILER FREE
4. Name the title, author, etc.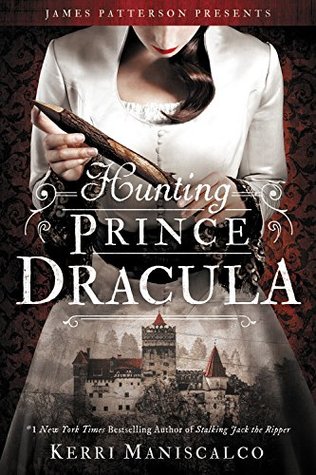 "He held a hand to his heart. 'You wound me. Wouldn't your father be angry if I let you freeze to death? Body heat is scientifically the best way to stay warm. In fact, there are studies that suggest removing your clothes entirely and pressing skin to skin is the surest means of avoiding hypothermia. Should you fall prey to that, I'll use every weapon necessary to save you. It's what any decent young gentleman would do. Seems terribly valiant, if you ask me.'"

p 42
TITLE: Hunting Prince Dracula
AUTHOR:

Kerri Maniscalco
PUBLISHER:
Little, Brown and Company
GENRE:
Paranormal Historical Fiction YA
RELEASE DATE:
September 19, 2017
Top Ten Tuesday is an original feature/weekly meme created at The Broke and the Bookish. This feature was created because we are particularly fond of lists here at The Broke and the Bookish. We'd love to share our lists with other bookish folks and would LOVE to see your top ten lists!

Each week we will post a new Top Ten list that one of our bloggers here at The Broke and the Bookish will answer. Everyone is welcome to join. All we ask is that you link back to The Broke and the Bookish on your own Top Ten Tuesday post AND add your name to the Linky widget so that everyone can check out other bloggers lists! If you don't have a blog, just post your answers as a comment. Have fun with it! It's a fun way to get to know your fellow bloggers.
This week's topic is:
Ten Books With Fall/Autumn Covers/Themes
10.

PHOENIX

by Elizabeth Richards

--

this one has Fall colors written all over it! It was naturally my first pick!
9.

THE DEAD HOUSE

by Dawn Kurtagich

--

this too has some orangey glow going on with it. Plus spooky trees, a spooky house, and a spooky girl! Spooky = Halloween = Fall! That's my math!
8.

REVENGE AND THE WILD

by Michelle Modesto

--

still need to read this one! But it's got trees going on in the lover half and a orange glow as well, that may or may not be fire and no I'm not talking about the actual fire part! Lol! So yeah, orange glow makes me think Fall apparently!
7.

THE MEDIATOR: REUNION

by Jenny Carroll aka Meg Cabot

--

going with the original cover for this one! It's read and has a flash of red-orangeish light that are car headlights/tail lights. It gives me more Fall vibes based on the coloring!
6.

CROOKED KINGDOM

by Leigh Bardugo

--

that gold coppery color also makes me think Fall. More to do with sunsets or even the golden leaf color!
5.

OMENS

by KELLEY ARMSTRONG

--

this picturesque scene just screams Fall! Full moon, leafless tree, a dusky color scene going on! Definitely Fall to me!
4.

SHADOWDANCE

by Kristen Callihan

--

another sunset-y orangeish cover! Apparently all orange covers remind me of Fall! LOL!
3.

HARRY POTTER AND THE DEATHLY HOLLOWS

by J.K. Rowling

--

naturally I need a HP cover in the mix!
2.

FIREBORN

by Keri Arthur

--

the fire colors scream Fall once more!
1.

DIARY OF A HAUNTING

by M. Verano

--

this cover kind of creeps me out! It's freaking scary! Scary I equate to Halloween and Halloween is in Fall, thus a Fall cover! Lol!