Here are the rules:

1. Grab your current read
2. Open to a page
3. Pick out 2 lines that are SPOILER FREE
4. Name the title, author, etc.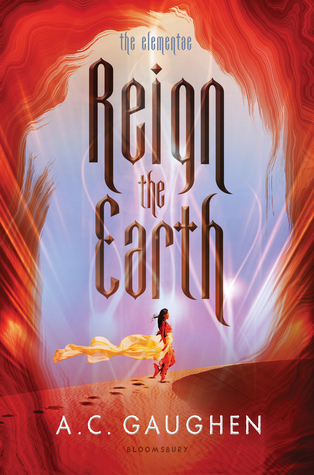 "A dense curtain of dust hid us away from the fighting. The men who had been attacking him were broken on the ground, their bodies still and red.





Almost like the rock knew what I wanted."

Kindle loc. 16%

*
*
Quote comes from the eARC therefore it and its location are not final
TITLE: Reign the Earth
AUTHOR:

A.C. Gaughen
PUBLISHER:
Bloomsbury
GENRE:
Fantasy YA
RELEASE DATE:
January 30, 2018
Top Ten Tuesday is an original feature/weekly meme created at The Broke and the Bookish. This feature was created because we are particularly fond of lists here at The Broke and the Bookish. We'd love to share our lists with other bookish folks and would LOVE to see your top ten lists!

Each week we will post a new Top Ten list that one of our bloggers here at The Broke and the Bookish will answer. Everyone is welcome to join. All we ask is that you link back to The Broke and the Bookish on your own Top Ten Tuesday post AND add your name to the Linky widget so that everyone can check out other bloggers lists! If you don't have a blog, just post your answers as a comment. Have fun with it! It's a fun way to get to know your fellow bloggers.
This week's topic is:
Top Ten Books I'm Thankful For

(Happy Thanksgiving week in the USA!)
10.

THE RANDOM HOUSE BOOK OF FAIRY TALES

adapted by Amy Ehrlich

--

this was the very first book of fairy tales I remember reading! I would check it out at least once a month on library days back in elementary school! I loved them and it basically helped spawn my love for fairy tales as did Disney because I loved seeing where Disney got their ideas!
9.

STRAY

by Rachel Vincent

--

what makes this book extra special for me was that I discovered it in Borders' romance section. I was a little hesitant at first because I knew I wasn't a romance reader but seeing quotes from already favorite authors urged me to give it a shot! Not only did I LOVE it and the series to come, but it also made me realize the stores will shelve books all willy nilly in romance even if there's hardly romance in said book! I still love you Borders!
8.

POISON STUDY

by Maria V. Snyder

--

I love love love this book/series so much! I have Amazon to thank for this one because those crazy nuts told me I would love

Magic Study

based on other books I bought--none of which were

Poison Study

--I did some digging and realized they skipped over book 1 with the book 2 rec, so I bought it, read it, LOVED it! And it eventually spawned the friendship I now have with Maria! So incredibly grateful for this book!
7.

OLD MAGIC

by Marianne Curley

--

what I LOVED about this one is that--in a sense--it was the first book I read with an "ordinary" girl. Yes, she's actually a witch, but she was my first not-popular type who was always overlooked or bullied. I don't know how to explain it really, but it was my first book where the lonely girl became the hero! Of course, she had a co-hero with her too since she was helping him out! I adore this book so much!
6.

OBSIDIAN

by Jennifer L. Armentrout

--

I was a tad, just a tad, late to reading this series...there were 3 books out when I started and yeah...that wait for Origin was dreadful! But I feel like this was my first book where the heroine LOVED books! And I mean LOVED! She didn't just read when she could, she read nearly any time Daemon wasn't harassing her! Lol! I loved that about Katy. POWER TO THE BLOGGERS!
5.

SHADOWLAND

by Jenny Carroll/Meg Cabot

--

this was my first GHOST book ever! I read it ages ago when Meg was using the pen name Jenny Carroll for them in the beginning. I was always a believer in ghosts and having Suze be a Mediator to the ghosts was just awesome! Plus the story-lines were always superb. The series will always remain one of my favorites and stepping stones of my lover of paranormal books!
4.

SNOW

by Tracy Lynn

--this was one of my first actual fairy tale retellings, I think it was number 3 or 4 in the Once Upon a Time series, but OMG! I loved it! I knew the original Snow White tale well and I just LOVED what Tracy aka Liz Braswell did with this one! It pretty much cemented my love for fairy tale retellings!
3.

WICKED: RESURRECTION

by Nancy Holder & Debbie Viguie

--soooo incredibly grateful for this one because I read the Wicked series when it first came out. I experienced the ultimate devastation when I learned the publisher had cancelled the series due to low sales. I didn't even know a publisher could do THAT at the time! I knew so little! But then in 2009 there was a miracle! The series had resurrected! Lol. Sales got better with the compilations and Nancy & Debbie were finally able to write the finale! Though it was only a 6 year wait and I've already surpassed that with Gena's series, a teeny tiny part of me will always hold out hope that she will write the finale to the Intertwined series, because I know miracles can happen!
2.

HARRY POTTER AND THE SORCERER'S STONE

by J.K. Rowling

--

of course Harry is on this list! Harry was such a huge part of my life! When I was finally hooked on Harry (lol) there were 3 books out with book 4 coming soonish? Basically release parties were in my future ever since! Releasing them in the summer was absolutely the greatest thing ever because NO SCHOOL! Though I did have a job with that last one and was spoiled with a certain elf's death before I ran away from hearing the rest. If it hadn't been my manager's daughter who spouted such spoilers I would've gone postal! Had it not been the last book, I would've made sure in the future I requested the release night party AND the day after off. Life lessons folks!
1.

DEMON IN MY VIEW

by Amelia Atwater-Rhodes

--

the one that started it all...or at least 7 out of the previous 9! I am pretty sure I might have read this one before the first book without realizing it. But THIS is the ONE that started my obsession and LOVE of vampires and all other creatures that go bump in the night! That the heroine was named Jessica as well was just an added bonus! LOL!