Here are the rules:


1. Grab your current read
2. Open to a page
3. Pick out 2 lines that are SPOILER FREE
4. Name the title, author, etc.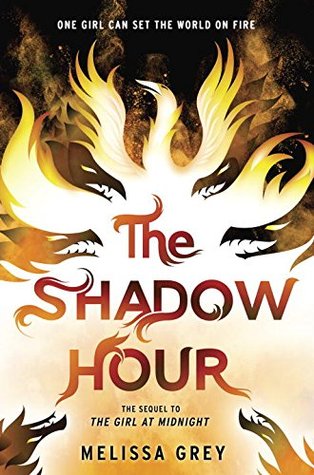 "

Echo plucked a Scottish shortbread from the tin. It was a tad stale, but still buttery and

delic

ious

. She ought to

put something in her stomach that

had a main

ingredient

other than caffien

e or sugar, but shortbread had the wor

d "

bread" in it,

which meant it was practically healthy."

p. 220*


*

Quote comes from the ARC, therefore it and its page number are not final.
I love Echo's reasoning for eating the cookie! Totally reminds me of myself when I rationalize eating a cookie when I shouldn't. My reasoning usually involves "there's egg in the cookie, therefore, it's a good source of

protein!" LOL!



TITLE: The Shadow Hour
AUTHOR:

Melissa Grey
PUBLISHER:
Delacorte Press
GENRE:
Fantasy YA
RELEASE DATE:
July 12, 2016
Top Ten Tuesday is an original feature/weekly meme created at The Broke and the Bookish. This feature was created because we are particularly fond of lists here at The Broke and the Bookish. We'd love to share our lists with other bookish folks and would LOVE to see your top ten lists!

Each week we will post a new Top Ten list that one of our bloggers here at The Broke and the Bookish will answer. Everyone is welcome to join. All we ask is that you link back to The Broke and the Bookish on your own Top Ten Tuesday post AND add your name to the Linky widget so that everyone can check out other bloggers lists! If you don't have a blog, just post your answers as a comment. Have fun with it! It's a fun way to get to know your fellow bloggers.
This week's topic is:
Ten Books Every Fairy Tale (Retelling) Lover Should Read
1.

SNOW

by Tracy Lynn

--

true this is the author of the current Twisted Tales series which isn't so hot. But I ADORED this one as a teen! It was one of my most favorite reads because I re-read it quite a bit back then!
2.

ENCHANTED

by Alethea Kontis

--

this is a fun little series that is more fairy tale like than retelling! I need to get back to it!
3.

DOROTHY MUST DIE

by Danielle Paige

--

not necessarily a fairy tale, unless we do consider

Wizard of Oz

one, but this a pretty unique spin on what would happen if the heroine was more villainous!
4.

BRIAR ROSE

by Jana Oliver

--I looooved this one! Another unique spin on the Sleeping Beauty story!
5.

PRINCESS OF THORNS

by Stacey Jay

--another Sleeping Beauty retelling, but more about what happens with Aurora after she wakes up!
6.

STRANDS OF BRONZE AND GOLD

by Jane Nickerson

--one that's a retelling of another famous tale! Can't recall if it's said or not, so I'm not saying anything. But it was AWESOME!
7.

GRIM

edited by Christine Johnson

--

an amazing collection of Grimm tales retold in an even more grim manner!! Highly recommended!
8.

CRUEL BEAUTY

by Rosamund Hodge

--

a

Beauty & the Beast

retelling that is so remarkably done!
9.

A COURT OF THORNS AND ROSES

by Sarah J. Maas

--

a beautifully retold

B&B

story but with faeries!!
10.

NOCTURNE

by Syrie James

--

and for the adult readers, a romantic

Beauty and the Beast

retelling with the beast as a vampire!! Tragically beautifully story!