Here are the rules:


1. Grab your current read
2. Open to a page
3. Pick out 2 lines that are SPOILER FREE
4. Name the title, author, etc.
I totally relate to Melanie in this one! Because during school years, I would always try to sneak in some fun reading time amidst all the papers and tests and homework and all that boring junk. The

escape from reality helped keep me sane!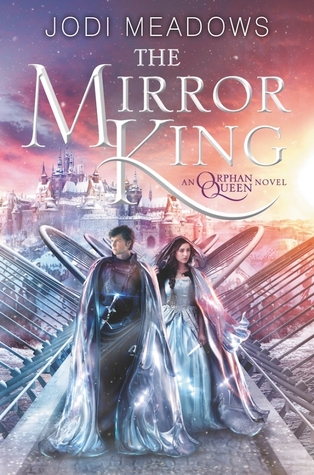 "

My heart warmed. Even during the chaos

of war, Melanie had managed to sneak

moments

with books. That

, I

hoped, would never change."

p. 304
TITLE: The Mirror King
AUTHOR:

Jodi Meadows
PUBLISHER:
Katherine Tegen Books
GENRE:
Dystopian/Fantasy YA
RELEASE DATE:
April 5, 2016
Top Ten Tuesday is an original feature/weekly meme created at The Broke and the Bookish. This feature was created because we are particularly fond of lists here at The Broke and the Bookish. We'd love to share our lists with other bookish folks and would LOVE to see your top ten lists!

Each week we will post a new Top Ten list that one of our bloggers here at The Broke and the Bookish will answer. Everyone is welcome to join. All we ask is that you link back to The Broke and the Bookish on your own Top Ten Tuesday post AND add your name to the Linky widget so that everyone can check out other bloggers lists! If you don't have a blog, just post your answers as a comment. Have fun with it! It's a fun way to get to know your fellow bloggers.
This week's topic is:
Ten Books That Will Make You Laugh
(or at least chuckle)
*pretty much with these books, you can bet I was laughing with all the other books in the series as well. But just to simplify things I'll just showcase book 1!
1.

OBLIVION

by Jennifer L. Armentrout (Lux Series)--

Okay, not book 1 exactly, but this is DAEMON'S book! DAEMON'S point of view, which is hilarious! Yes, Daemon was a douche in the first book, but he's still got his moments of nicety. Plus his thoughts are pretty hilarious since he thinks pretty highly of himself. And thank goodness Katy's there to knock him down a peg or two!
2.

POISON STUDY

by Maria V. Snyder (Study Series)--

While this book/series isn't filled with LOL moments left and right, there is Janco. And all you need to know, if you haven't read this awesome series yet, is that Janco brings the humor to the story! And he's hilarious!
3.

HEX HALL

by Rachel Hawkins (Hex Hall Series)--

this one has more of a quirky humor. Sophie's got snark and she's not afraid to use it!
4.

DEAD WITCH WALKING

by Kim Harrison (The Hollow Series)--

another series that's not constantly filled with laughs, but again, there's that one character who will always make you laugh. And in here, that's Jenks. A feisty and mouthy little Pixie who's Rachel's right hand man. My favorite moments always involved his expletives using Tinkerbell's name in vain!
5.

WHAT'S A GHOUL TO DO?

by Victoria Laurie (Ghost Hunter Mysteries)--

this is an incredibly fun series that I am refusing to read its finale for the moment, because I am in denial with its ending...that has had me laughing more often that not. And that's largely due to Gilley. He's M.J.'s best friends and co-worker in their ghost hunting business and he's terribly funny! Plus he's afraid of ghosts, so why he's in the ghost hunting business is largely due to his devotion to his friendship with M.J. Though he doesn't always make it easy for her!
6.

FIRST GRAVE ON THE RIGHT

by Darynda Jones (Charley Davidson Series)--

okay, you all must know by now how much I ADORE this series! Charley is hilarious!! She can be somewhat serious when necessary, but for the most part, it involves a lot of laughter! I would so be besties with this woman!
7.

WICKED

by Jennifer L. Armentrout (A Wicked Saga)--

with Jennifer, you can always expect to be laughing with someone! True, Ren brought on some laughs because he reminded me of an older Daemon. But there's also Tink! Ivy's Brownie friend/roommate (except he doesn't help with rent/chores/grocery bills/etc). He's quite funny and kind of has a Netflix addiction--if I am remembering right! But yes, more laughs with Jennifer's awesome characters!
8.

SOULLESS

by Gail Carriger (Parasol Protectorate Series)--

Alexia is pretty funny! This is Steampunk so we're in what 1800s? or something like that? She's not the dignified lady she should be, so hence the hilarity! Plus her best friend, Ivy tends to wear outrageous hats and that's funny all on its own!
9.

SOME GIRLS BITE

by Chloe Neill (Chicagoland Vampires Series)--

Merit is the queen of snark! At least in my book! Lol. She's had me in stitches pretty much from the get go. And while she has grown tremendously over the series, her earlier self pops up every now and then. And it doesn't hurt that Ethan is gaining a sense of humor as well!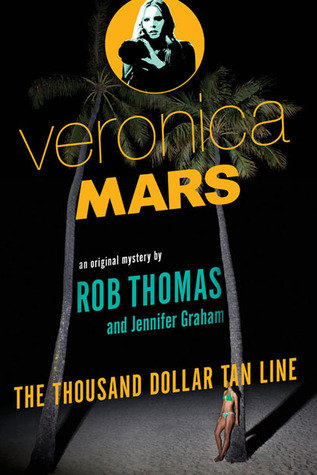 10.

VERONICA MARS AND THE MILLION DOLLAR TAN LINE

by Rob Thomas & Jennifer Graham (Veronica Mar Series)--

okay I'm probably cheating here, but come on. Who didn't LOL at every episode of Veronica Mars? And to have it made into a book series?! Yeah, there's some laughs!! Although, terribly, terribly, sadly, it seems this series either stalled at 2 books...or even worse, is only going to have these 2 added additions to the series. I haven't heard anything really lately about another and Goodreads remains adamant that there's only 2 and will only be 2. *sobs*