Here are the rules:


1. Grab your current read
2. Open to a page
3. Pick out 2 lines that are SPOILER FREE
4. Name the title, author, etc.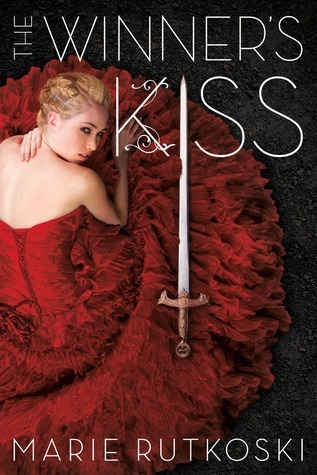 "'Not exactly.'





'Then what are you afraid of?'





'Spiders,' he said gravely.





She elbowed him."

p 164
TITLE: The Winner's Kiss
AUTHOR:

Marie Rutkoski
PUBLISHER:
Farrar, Straus, and Giroux (BYR)
GENRE:
Fantasy YA
RELEASE DATE:
March 29, 2016
Top Ten Tuesday is an original feature/weekly meme created at The Broke and the Bookish. This feature was created because we are particularly fond of lists here at The Broke and the Bookish. We'd love to share our lists with other bookish folks and would LOVE to see your top ten lists!

Each week we will post a new Top Ten list that one of our bloggers here at The Broke and the Bookish will answer. Everyone is welcome to join. All we ask is that you link back to The Broke and the Bookish on your own Top Ten Tuesday post AND add your name to the Linky widget so that everyone can check out other bloggers lists! If you don't have a blog, just post your answers as a comment. Have fun with it! It's a fun way to get to know your fellow bloggers.
This week's topic is:
Top Ten Bookworm Delights
1.

THE JOY OF LEARNING OF A NEW RELEASE

--

there's no greater excitement than learning about new books...okay, well there are, but none can compare to when you learn about a new release from a favorite author or just that one release that sounds SO AWESOME!
2.

SEEING A NEW RELEASE ON THE SHELF THE FRIDAY BEFORE IT RELEASES

--

this is a delight, but then I usually already have these books preordered, and then I know if I buy it early the sales don't really count in the best sense to the author...so this scenario is sort of a double ended sword (or however that saying goes!)!
3.

COVER REVEALS

--

learning about a new book brings along one kind of excitement, seeing the cover is another thing entirely!! I LOVE when a cover gets revealed and then when the cover is just oh so beautiful, it also brings another kind of joy!
4.

MEETING OTHER BOOK LOVERS

--

yeah, this feeling NEVER gets old! Growing up, I adored Paranormal YA books--the few that there were--and yet none of my friends ever read them. I was teased (in good humor) about reading my "vampire" books, and I never really had anyone to gush over the books with until I started blogging. So really, truly THANK YOU EVERYONE!
5.

MEETING AUTHORS

--

I love meeting the authors who write the books I adore! Of course I usually get tongue tied when meeting them! And then it's usually been a length of time since I read their books I can't quite remember things I would want to gush or ask them about. I just remember loving the book! LOL!
6.

BOOKMARKS

--

yeah it's a weird thing to gush about! But I love bookmarks! I like the simple ones, but I love how colorful they can be! And then finding Disney ones or even BOOKISH ones brings on a whole new joy!
My current bookmark collection! Hard to make them all out, but I wanted to get them all in one picture!
7.

BUYING NEW BOOKSHELVES

--

when you learn you have room for another bookcase...oohhh there's sooo much excitement! Do you fill it with ALL the ones in the closet shelf or use them for new books...what to do what to do?! There's an exciting joy in that dilemma!
8.

DISCOVERING BOOKISH SHOPS

--

with all the awesome sites like Society6 and Etsy that all have bookish shops and sellers...it's a booklover's dream!! To finally have merchandise that showcases the love of books is a dream come true!
9.

HAVING A QUIET HOUSE TO YOURSELF

--

the perfect atmosphere for reading a book!
10.

FINDING SPECIAL BOOKS

--

this is a weird one, but what I mean is when you go to places like Half Priced Books or Book Sales and you find that ONE special book! One you've wanted or didn't realize you needed! Or like me when you go to HPB and find that coveted international edition cover of beloved book!!