Here are the rules:

1. Grab your current read
2. Open to a page
3. Pick out 2 lines that are SPOILER FREE
4. Name the title, author, etc
This teaser totally took me by surprise! Read on if you dare!! ;)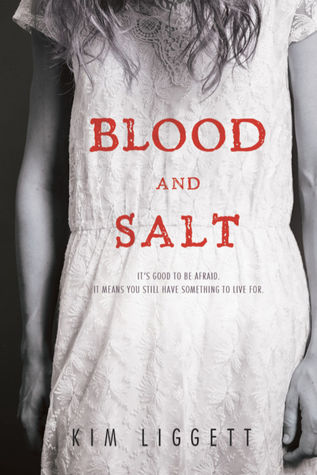 "'Everybody poops, Rhys. There's even a book about it.'"

p 50

TITLE: Blood and Salt
AUTHOR:

Kim Liggett
PUBLISHER:
G.P. Putnam's Sons Books for Young Readers
GENRE:
Horror YA
RELEASE DATE:
September 22, 2015
Top Ten Tuesday is an original feature/weekly meme created at The Broke and the Bookish. This feature was created because we are particularly fond of lists here at The Broke and the Bookish. We'd love to share our lists with other bookish folks and would LOVE to see your top ten lists!

Each week we will post a new Top Ten list that one of our bloggers here at The Broke and the Bookish will answer. Everyone is welcome to join. All we ask is that you link back to The Broke and the Bookish on your own Top Ten Tuesday post AND add your name to the Linky widget so that everyone can check out other bloggers lists! If you don't have a blog, just post your answers as a comment. Have fun with it! It's a fun way to get to know your fellow bloggers.
This week's topic is:
Top Ten Books To Read If Your Book Club Likes FAIRYTALE RETELLING Reads!
10.

CRUEL BEAUTY

by Rosamund Hodge

--

I really enjoyed Rosamund's take on Beauty and the Beast! It was refreshing and yet, still contained threads of the classic tale (and movie) we all know and love!
9.

NOCTURNE

by Syrie James

--

I call this a Beauty and the Beast retelling as well! But it's for adult!! And the beast is a vampire!! It was one of the most beautiful books I ever read and it still haunts me when I think about it and B&tB retellings!
8.

A COURT OF THORNS AND ROSES

by Sarah J. Maas

--

because how can I NOT include it! And yes...I STILL need to read the sequel!! SOO BEHIND!
7.

TIGER LILY

by Jodi Lynn Anderson

--

one of the most unique and wonderful Peter Pan retellings I've read! It's not 100% magical in the magic sense, but it's truly magical in its unique telling! And while Tiger Lily is more our main character here, the story is actually told by Tinkerbell!!
6.

UNHOOKED

by Lisa Maxwell

--

another amazing Peter Pan "retelling" but not a straight up retelling. It's got all the characters you think you know, but they will surprise you and I loved it! Plus I was totally imagining Colin O'Donoghue as Captain Hook in this one. *Swoons*
5.

THE WRATH AND THE DAWN

by Renee Ahdieh

--

another duology I still need to finish! Soon. I hope! But this is a Thousand and One Nights (I believe that's the title, unless there's a "a" or "the" in front, I can't quite remember...) retelling and it was sooo good! So different and yet rich and beautifully told!
4.

PRINCESS OF THORNS

by Stacy Jay

--

another unique retelling, this time of Sleeping Beauty! Sleeping Beauty isn't at all what you would expect! I quite enjoyed this one. Was sad to hear a sequel wouldn't be happening after a failed Kickstarter run went terribly wrong.
3.

STRANDS OF BRONZE AND GOLD

by Jane Nickerson

--

this one was awesome!! And guess the retelling? It's BLUEBEARD! It's no secret or surprise as that's the first line in the description. Yet the story was still full of surprises and whatnot! I loved this one!
2.

SNOW

by Tracy Lynn

--

this! This is one of my ALL TIME FAVORITE fairytale retellings ever!! It's an older series called Once Upon a Time, which is basically fairytales retold. But not necessarily modernized, just retold in a different way or atmosphere. This was my favorite out of all the ones I read. Which was a little under half, because apparently the series kept going long after I thought it ended. A lot of you already read this author, Liz Braswell. But while her Disney retold stories don't seem to live up to our expectations, I will tell you that this one was freaking incredible! I read it as a teen and I had to have read it at least 5 times or so! It was just that good!! And having the heroine share my name in no way effects my opinion of the story...much. Okay, just a smidge! ;)
THE ONE (AMONG MANY) I NEED TO READ:
1.

The Forbidden Wish

by Jessica Khoury

--

an Aladdin retelling with a female genie! I have heard amazing things about this one and I sooo cannot wait to read it!