Here are the rules:

1. Grab your current read
2. Open to a page
3. Pick out 2 lines that are SPOILER FREE
4. Name the title, author, etc.
This one got a laugh out of me! Sort of reminded me of the first Pirates movie when Jack's crimes were being read to him and he laughed as he remembered one he seemingly forgot about at the time! LOL!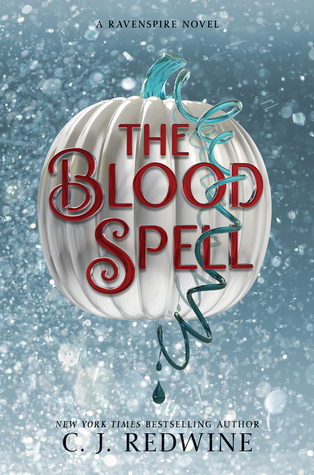 "Her eyes narrowed. 'Do we need to have a discussion about who switched the kitchen's sugar supply for salt before the midsummer banquet? Or why my prize stallion was seen participating in an illegal race with someone who looked suspiciously like my son on his back? Or perhaps we should revisit the lovely morning when our esteemed butler woke up on the castle roof in nothing but his unmentionables?'



Kellan laughed, caught a glimpse of his mother's expression, and hastily pretended to be suffering from a coughing fit." Kindle loc. 6%*
*
This quote comes from the eARC, therefore it and its location are not final
TITLE: The Blood Spell
AUTHOR: C.J. Redwine
PUBLISHER:
Balzer & Bray
GENRE:
YA Fairy Tale Retellings
RELEASE DATE:
February 12, 2019
Top Ten Tuesday was created by The Broke and the Bookish in June of 2010 and was moved to That Artsy Reader Girl in January of 2018. It was born of a love of lists, a love of books, and a desire to bring bookish friends together.
This week's topic is:
Top Ten Authors I'd Love to Meet
**I feel very privileged to have met many authors already! Making this list was rather hard too! Lol.
10.

AMANDA BOUCHET

--

even though I've only read her first book and still have 2 more to read, I can easily say I'd want to meet her because I positively LOVED A Promise of Fire!
9.

KADY CROSS/KATE LOCKE/KATE KESSLER

--

and all the many names Kady/Kate takes on! I still (LOL) need to read her Kate Kessler books but I've loved her first two personas' books! I was so close to meeting her once upon a time a few years ago, but sadly, she had to cancel her appearance. :(
8.

LAURIE FARIA STOLARZ

--still have plenty of backtitles to read from Laurie though I LOVED her Blue is For Nightmares series!!
7.

ALYSSA ROSE IVY

--Alyssa's my #1 NA author I love to read! Her paranormal themed books have held me captive for years now! I'd love to meet her one day! I remember once she was in St. Louis with her husband for something, and I couldn't work up the courage to ask her if I could catch up with her and fangirl over her! Lol. Maybe another time!
6.

MAUREEN JOHNSON

--another author I came sooo close to meeting, but yet again, she had to cancel her appearance at the event. I totally understand when authors have to do such things, but I can't help but feel dismayed at how close I was to meeting them and have yet to have a chance to see them again!
5.

L.J. SMITH

--the original and real one of course! I fell in love with The Forbidden Game ages ago and read The Vampire Diaries shortly thereafter! I love her books and hope to tackle the entire Night World series as well as the Dark Visions series!
4.

KALAYNA PRICE

--

I fell in love with her series that you see there in the picture! It's been on a hiatus for years now. I'm realllllly starting to worry it might never be completed, though I do enjoy her other series...just not "as" much. I mean, come on the first one has VAMPIRES! I'd love to meet Kalayna one of these days!
3.

KIERSTEN WHITE

--

I can never seem to get close to meeting this woman! Lol. I check her tour every year and every year it seems like the Midwest gets skipped over! One day, I will hopefully meet her!
2.

TAHEREH MAFI

--

does it count that I sort of saw her from far away at BEA in 2016? I'm saying no, because seeing isn't meeting! Lol! Hopefully the next time around she'll tour to St. Louis!
1.

MARIANNE CURLEY

--probably my #1 forever now! I LOOOOVED her books as a teen! I still need to re-read the Guardians of Time series so I can read the latest one that came out this year! She's an Aussie, so I feel like my chances of meeting her are very slim...unless I win a trip to Australia! Wouldn't that be nice!
And the obvious pick that will likely remain infinite on all our lists--except for a few of you I suspect...I might not like you just a bit for that too, ;)
The one and only...J.K. ROWLING!!!