I saw this post last week over at my friend, Amber's blog Du Livre and thought that it looked like a lot of fun! Especially since it's holiday related! So I thought I would do the tag myself! I borrow this image as well as the following ones below from her blog too!
A book (or series) that is popular but you don't care for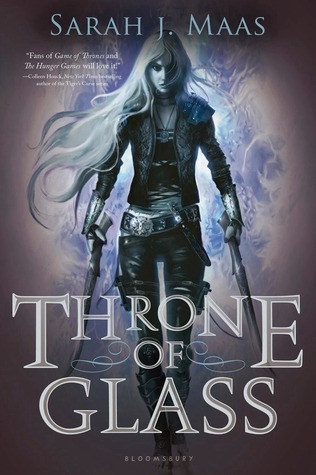 Like Amber, the Throne of Glass series was just one I could never get into. I read the first book and was just underwhelmed. I guess my expectations were set too high after hearing everyone praise it and I sadly failed to see that same magic. But I never ever begrudge people for loving series I didn't enjoy, because that's just silly! Lol.

Your favorite book(s) of the year
Oh goodness. Could we asked a harder question?! Even limiting myself to five is challenging! Lol! My top 5 favorite reads from at the beginning of the year were:
Moonlight Sins by Jennifer L. Armentrout
Immortal Reign by Morgan Rhodes
The Cruel Prince by Holly Black
Legendary by Stephanie Garber
The Dark Calling by Kresley Cole
A debut author that you can't wait to read more from
Shawn Sarles--I really liked Campfire and I hope he sticks to thrillers for awhile because I really enjoyed his debut!
Alice Reeds--as you all know, I ADORED Echoes! And my agonizing wait of dying for a sequel has finally been relieved--somewhat--with the news that a sequel is coming in 2020! So another year of waiting, but at least now it's just in anticipation of the sequel instead of the agonizing wait of word for a sequel! Lol!
A satisfying fluffy read
I'm not really one for fluffy reads. When I hear "fluffy read" I tend to think of contemporary books which I don't read! But never fear! I quickly thought of a "light paranormal" read that was very fluffy and adorable!
The Windy City Magic series is one that is paranormal in nature and yet, still very light and fluffy when it comes to storyline and plot! I was afraid, at first, that I wouldn't really like this one, but it was actually pretty cute and I am excited to see how this series will end next year!
A book you would happily reread over and over again
Well, again, like Amber, I am not really one for re-reading! I have wayyyy too many books I want to read for the first go around to spend time re-reading one! Though I do have a series I plan to re-read at some point for a new installment was added to it after a decade long gap! But books I re-read endlessly as a teen when I didn't have enough new books to read were:
Demon in My View by Amelia Atwater-Rhodes
Blood and Chocolate by Annette Curtis Klause
Old Magic by Marianne Curley
Since I wasn't aware of the BFRAT Challenge, I'm just making this apart of my Discussion Challenge! If you feel like getting in the holiday spirit, join along!