Stacking The Shelves is all about sharing the books you are adding to your shelves, may it be physical or virtual. This means you can include books you buy in physical store or online, books you borrow from friends or the library, review books, gifts and of course ebooks! The meme is now hosted by Tynga's Reviews and Reading Reality.
You'd think a four day week wouldn't be so stressful, well, unfortunately it was! My manager took vacation days at the end of the week and left me a handful of emails that weren't written very well because my instructions were unclear in at least two of them! One of them even left instructions on what to do with the paperwork he left on my desk...there was no paperwork on my desk. So yeah...I'll find out tomorrow what I was supposed to do and hopefully not get asked why I didn't do it. I've got another interview of sorts on Tuesday, so hoping that provides some happy results. Wish me luck!
This was a pretty good week for book hauling and I guess just hauling in general! Lol! Check out what I bought:
Crave by Tracy Wolff--

I bought myself the "standard" edition so I can have both this cover and my Bookish Box one on my shelves!
House of Dragons by Jessica Cluess--

Amazon sent me a coupon of sorts after they sent one of my orders haywire and refused to deliver it, so I used the coupon on this one to bring the price down to manageable levels!
Illustrated Girl by Josephine Angelini--

I'm not one to do serial novels, so I waited for this one to be completed and put all together! I managed to snag it when it was free too, so yay!
Aurora Blazing by Jessie Mihalik--

I went to my favorite little downtown St. Charles yesterday, it was gorgeous weather out! I popped into my favorite indie store, Main Street Books and bought one of the books off my wishlist to help support the store since they hadn't been open in so long! And I learned there's going to be virtual signings in JULY! SO EXCITED!!
Then a few weeks ago I was told I won an eARC from the YALLStayAtHome event in April and I finally received my prize:
They Wish They Were Us by Jessica Goodman (ARC)--

so excited for this one! I think I have another of her books in my TBR pile, but I'm always up for a good YA thriller!
THANK YOU Penguin Teen!
Then I got a few other goodies this week, such as my Caraval scarf from Noverantale:
It ended up being a little shorter than I initially thought. Honestly, I saw the gorgeous design and hit buy so quickly I didn't give dimensions much thought! Lol! I'm actually thinking of looking into getting a picture frame for it because the design is so cool! Might have to custom order it though, the length seems pretty long. I'll keep you updated on this potential project! ;)
Then in Disney Shopping I bought:
I ordered this mug I'd been eyeing on ShopDisney back on a free shipping day. The coloring isn't quite what I thought it would be, the online picture had it as a gorgeous teal, and it's more of a light green...it's still nice I guess. But man...that original teal was gorgeous! I did decide to email them to see if maybe they sent me a defective one by mistake.
On the inside of the cup, you see a golden Ariel at the bottom. I tried several times to take a picture of it, but my flash was uncooperative, so here's the picture from the website: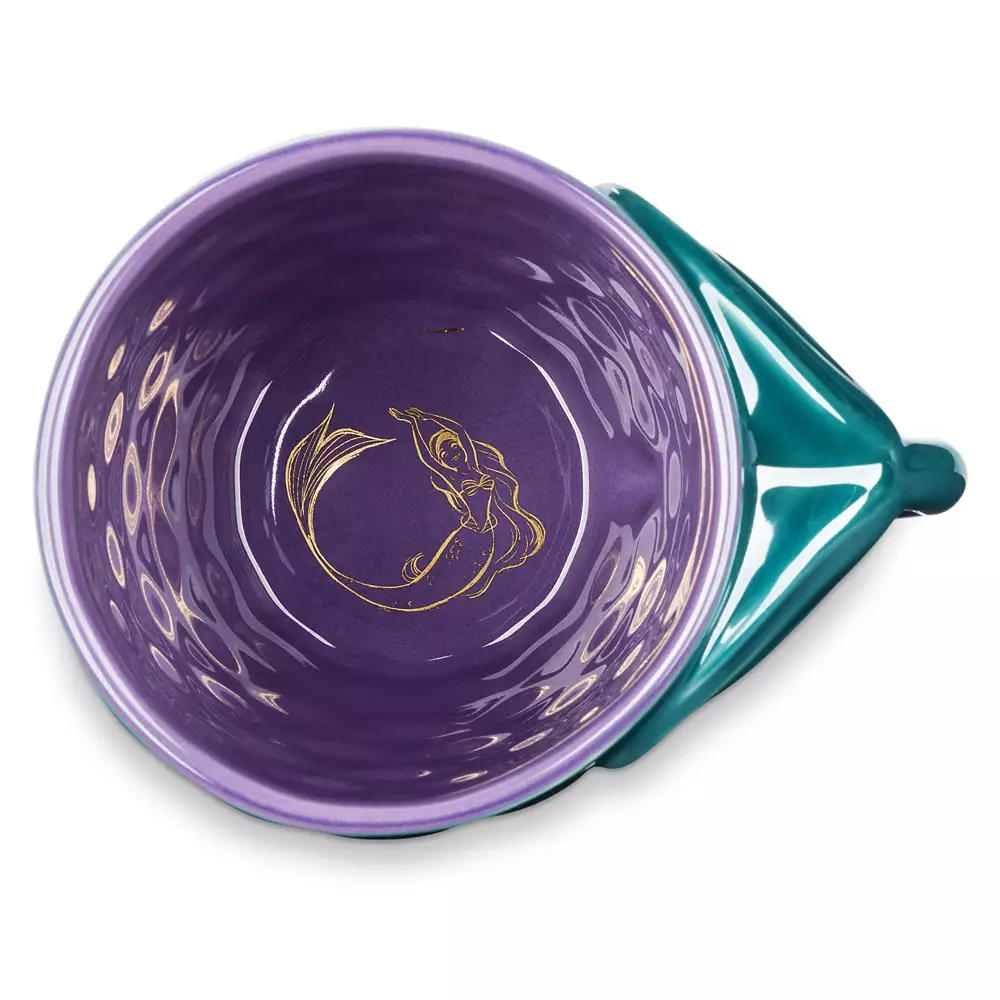 And if you look really closely on the right, you can see what the green looked like! I mean you can pop over to the website too, if you wanted to! The mug was still there last night. Lol.
And then a surprise from the publisher came:
A set of Iron Fey Chronicles pins with symbols from the newly redesigned covers! And they have that super smooth matte finishing! I love that texture! Lol!
THANK YOU Inkyard Press!
And that was it for me this week! What did you all get?