Here are the rules:
1. Grab your current read
2. Open to a page
3. Pick out 2 lines that are SPOILER FREE
4. Name the title, author, etc.
"Tilting his head to one side, Webb's expression darkened. 'I may have underestimated you, Teach.'





'I'm sure you won't make that mistake again.'"

p 147*
*

Quote comes from the ARC, therefore it and its page number are not final.
TITLE: Blacksouls
AUTHOR:

Nicole Castroman
PUBLISHER:
Simon Pulse
GENRE:
Historical YA Fiction
RELEASE DATE:
April 11, 2017
Top Ten Tuesday is an original feature/weekly meme created at The Broke and the Bookish. This feature was created because we are particularly fond of lists here at The Broke and the Bookish. We'd love to share our lists with other bookish folks and would LOVE to see your top ten lists!

Each week we will post a new Top Ten list that one of our bloggers here at The Broke and the Bookish will answer. Everyone is welcome to join. All we ask is that you link back to The Broke and the Bookish on your own Top Ten Tuesday post AND add your name to the Linky widget so that everyone can check out other bloggers lists! If you don't have a blog, just post your answers as a comment. Have fun with it! It's a fun way to get to know your fellow bloggers.
This week's topic is:

FREEBIE: Top Ten Authors Who Deserve More Recognition!
10.

ELIZABETH RICHARDS

--

I really enjoyed this series! A sort of futuristic setting with humans and vampires trying to live together but it has a past like feel. And of course there's a lot going against said couple. Sadly it doesn't look like Elizabeth has written anything since this trilogy came to an end!
9.

DEMITRIA LUNETTA

--

I still need to read the last book of this duology! But I really enjoyed this one! It was post apocalyptic and creepy! I know she also has another new book coming out this year that I'm keeping an eye on!
8.

ALETHEA KONTIS

--

I need to get caught up in this series/world! It's fairy tales retold, but it a most interesting way because they're still in essence fairy tales! There are 7 sisters and initially there was to be a book for each of them but I think it stalled at three, but with these other 2 books I still need to read that I think are of the same world!
7.

ERIN KELLISON

--

Erin's books initially started out as a sort of fairy tale retelling for adults! It was quite fascinating! She's since indie published a variety of titles, but I still feel like she's under appreciated in a sense! I highly recommend her early books if you love fairy tale retellings! They're not straight up retellings, but sort of inspired by fairy tales sort of story!
6.

CARA LYNN SHULTZ

--

I was devastated when things seem to fall apart and put an end to

The Dark World

just as it got started! It was a fascinating book with a girl who could see ghosts and whose best friend was one! It was extraordinary but it sadly seems it will never come back.
5.

STACEY JAY

--

I still need to read quite a few of her back titles, but I really enjoyed the one I read

Princess of Thorns

! She seems to have a few retelling sort of read and it sadly seems she's not writing anymore either.
4.

ALYSSA ROSE IVY

--

maybe not as under appreciated as I might think, but I loooove Alyssa's books! I really don't see them around enough for my liking! It's Paranormal New Adult! A genre that is sorely lacking in the NA world I think! LOL!
3.

DAWN METCALF

--

this is a really enjoyable series so far! I'm a bit behind in it again! LOL! But I don't really see these around all that much either!
2.

JANA OLIVER

--

demons!! A YA series involving demons!! It's sooo good! And better yet, it ain't over yet!!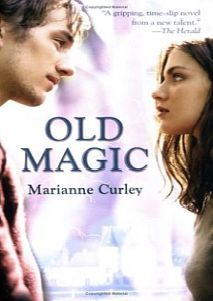 1.

MARIANNE CURLEY

--

I adore Marianne's books! They were my favorite reads in my teen years! I probably read

Old Magic

at least 7 times! Possibly more! It's among my most favorite reads ever! And her other series The Guardians of Time series was really good, and best yet, is she's reviving the series!!! SOOOO excited!!