Okay, it's time to squeeze in another discussion post before the end of the year! I got sick on Christmas day, can you believe that? And I've been slacking off in my blogging duties since then because I've been lying in bed trying to rest, but mostly getting up and not resting! Lol! Even though there's a TTT post coming up shortly with this same topic, I thought I'd talk about 2019 books releasing that I am SUPER excited for!
Top 2019 Releases I'm Looking Forward To
I'll try to limit myself to a small number here! Lol! First off the bat is The Wicked King by Holly Black! Like many, I fell in love with The Cruel Prince and cannot wait to see where this series will go next. Though I have the feeling I am going to be dying for the third book directly after finishing this one!
Finale by Stephanie Garber is another I am dying to read! You all probably know by now that I am slightly obsessed with this series! I cannot wait to see how this one will end after the completely shocking events of the second one!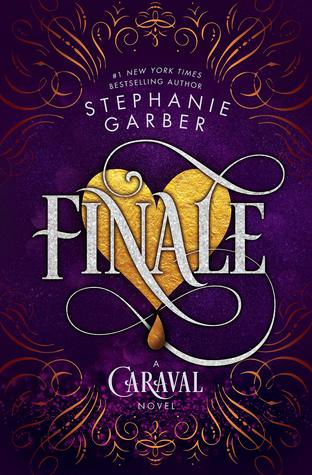 Another one that I am dying to get my hands on, which keeps changing its release date and driving me more insane is Kresley Cole's From the Grave! I've been addicted to this series since the beginning practically! I cannot wait to see how this series will end and ultimately, who Evie will "choose." It's one of those rare series where I literally cannot decide on a "team" in regards to the love triangle! It should've released in March but now has moved to August! I am going INSANE I TELL YOU!!!
Another one I am SUPER stoked for is The Beautiful by Renee Ahdieh! It's VAMPIRES!! VAMPIRES!!! You all know how I love my vampires!! I cannot wait for this one! Though I have likely 100+ vampire books in my TBR still, I am super stoked to read one from a favorite author! Did I mention that it's about VAMPIRES?!!
One final book before I cut myself off from basically reading my entire release list is The King by Jennifer L. Armentrout! This is actually a novella, but omg, after I read The Prince this summer, I was left awestruck! And then it ended in a cliffhanger and I had no idea what was happening with the story because I knew Jennifer wouldn't leave us hanging like that without some kind of plan in store! And there is!! At least for another book!
Those are the top five books I cannot wait to read this coming year! There are more on the list for sure, but I tried to limit myself! Lol! I have at least another two releases from Jennifer here on it too, so know that those are on it too! Likely spots 6 & 7! ;)
What are some books you are really looking forward to next year?