Here are the rules:

1. Grab your current read
2. Open to a page

3. Pick out 2 lines that are SPOILER FREE
4. Name the title, author, etc.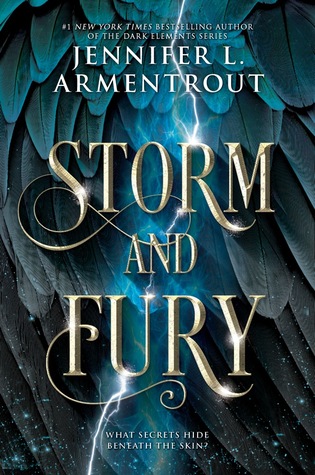 "I had downloaded the ebook on my iPad, but it wasn't the same as holding a paper copy.



It was never the same."

Kindle loc. 13%

*
*Quote comes from the eARC, therefore it and its location are not final.
TITLE: Storm and Fury
AUTHOR:

Jennifer L. Armentrout
PUBLISHER:
Inkyard Press
GENRE:
Paranormal YA
RELEASE DATE:
June 11, 2019
Top Ten Tuesday was created by The Broke and the Bookish in June of 2010 and was moved to That Artsy Reader Girl in January of 2018. It was born of a love of lists, a love of books, and a desire to bring bookish friends together.
This week's topic is:
Upcoming Releases I'm On the Fence About
10.

IN THE WOODS

by Carrie Jones & Seven E. Wedel

--

this one sounds intriguing! I love a good eerie mystery, yet I feel some unknown hesitation...which will be a common theme with most of these books!
9.

THE CERULEAN

by Amy Ewing

--

this sounds interesting, but I was thrown off her first series. Though I have a copy of this and I totally plan to read it at some point!
8.

IN ANOTHER LIFE

by C.C. Hunter

--

I loved C.C.'s paranormal reads! This one is contemporary of sorts, but has something of a mystery going on. Really on the fence with it, but also kinda curious!
7.

THE DEVOURING GRAY

by Christine Lynn Herman

--

likely going to give this one a try, but still feel some hesitation. Likely because it's one of those hyped books that has me intrigued and yet hesitant!
6.

MISSING, PRESUMED DEAD

by Emma Berquist

--

I love a good ghost story, yet when you want to thrown in a living person falling in love with a ghost, well that makes me hesitant. Even one of my most beloved series went that route and it still left me feeling uneasy, I mean there's usually only one way for a ghost and a live human being to "be together."
5.

THE KINGDOM

by Jess Rothenberg

--

this one sounds intriguing but androids/robots/animatronics as a main character always has me somewhat hesitant--the word of the day! LOL.
4.

NO EXIT

by Taylor Adams

--

this sounds like a creepy mystery! Though I feel hesitant for some reason. I can't quite explain it, perhaps it's the fear that I already have too much on my TBR pile and do I really need to add one that's totally new to me in all sense of the word?
3.

LAST OF HER NAME

by Jessica Khoury

--

I would love to read an Anastasia story, but what has me hesitant with this one is the space setting! I don't always do well with space books!
2.

THE HUMMINGBIRD DAGGER

by Cindy Anstey

--

this one sounds mysterious but I feel like I am building up improbably expectations. This might be one I wait for reviews to come in to help with the decision making!
1.

THE GRACE YEAR

by Kim Liggett

--

I really enjoyed Kim's first book and have 2 others I need to read still. I want to give this one a chance, but at the same time I am feeling like it's not going to be the creepy horror story I am hoping for.