Here are the rules:

1. Grab your current read
2. Open to a page

3. Pick out 2 lines that are SPOILER FREE
4. Name the title, author, etc.
So I know I finished this one already, but I'm thinking ahead. That whatever book I'm reading or about to start I won't actually have time to record a teaser like I usually do on Mondays, because as I said, I'm meeting Stephanie Garber on Monday night! Lol. So this week's teaser is from my last read!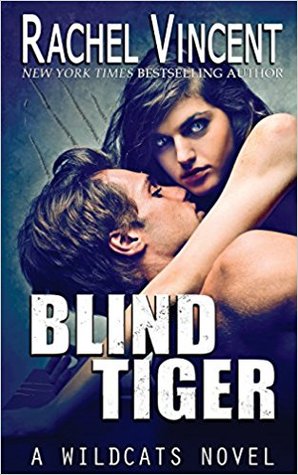 "'Oh, good. A mystery. But I have to warn you, I've seen every episode of Scooby Doo. Even the ones where Scoob was a puppy.'" p 269
TITLE: Blind Tiger
AUTHOR:

Rachel Vincent
PUBLISHER:
Self
GENRE:
Urban Fantasy
RELEASE DATE:
March 7, 2017
Top Ten Tuesday was created by The Broke and the Bookish in June of 2010 and was moved to That Artsy Reader Girl in January of 2018. It was born of a love of lists, a love of books, and a desire to bring bookish friends together.
This week's topic is:
Page to Screen Freebie: Top Ten Books that Need to Be Made into Film!
10.

DEAD WITCH WALKING

by Kim Harrison

--

once upon a time this was going to be a TV show, but then things happened and it didn't happen. I think it would make an awesome TV show!!
9.

SWERVE

by Vicki Pettersson

--

this would make once awesome movie! Oh my god it would likely terrify me, but I loved this book! It was super creepy and surreal and to see it as a movie would be incredible!
8.

ILLUMINAE

by Amie Kaufman and Jay Kristoff

--

I can't decide whether this would be a good TV show or movie. Either I guess at this point! Maybe movie just because it would be able to encompass more...or maybe that's true of the opposite!
7.

CARAVAL

by Stephanie Garber

--

definitely movie worthy!!
6.

OBSIDIAN

by Jennifer L. Armentrout

--

I think this one could work great as either a TV show or movie!
5.

CAMPFIRE

by Shawn Sarles

--

definitely make a good scary movie! Perhaps make the scarier stuff happen sooner and longer!
4.

SOME GIRLS BITE

by Chloe Neill

--

another I can't decide if it would be better as a TV show or movie! But I know I'll be cracking up either way!
3.

FIRST GRAVE ON THE RIGHT

by Darynda Jones

--

either way again! Charley is a laugh riot. Maybe leaning more towards TV show than movie.
2.

WELCOME TO THE DARK HOUSE

by Laurie Faria Stolarz

--

definitely movie worthy! But let's finish the franchise this time around!
1.

DREAMFALL

by Amy Plum

--

this would make a great horror movie too!