Here are the rules:

1. Grab your current read
2. Open to a page

3. Pick out 2 lines that are SPOILER FREE
4. Name the title, author, etc.
"'Touch it,' he persisted. 'Just a little. You know you want to, Peaches.'"

Kindle loc. 5%

*
*
Quote comes from the eARC, therefore it and its location are not final.
TITLE: The Burning Shadow
AUTHOR:

Jennifer L. Armentrout
PUBLISHER:
Tor Teen
GENRE:
YA Paranormal
RELEASE DATE:
October 8, 2019
Top Ten Tuesday was created by The Broke and the Bookish in June of 2010 and was moved to That Artsy Reader Girl in January of 2018. It was born of a love of lists, a love of books, and a desire to bring bookish friends together.
This week's topic is:
Favorite Books Released In the Last Ten Years
(one book for each year)
(submitted by Anne @ Head Full of Books)
10.

WICKED: RESURRECTION

by Nancy Holder & Debbie Viguie (2009)--

I waited SIX years for this book to exist! I read the original Wicked as they released wayyy back in the day and it was first time I learned the HORRIFYING truth that a publisher WILL CANCEL a series RIGHT AT THE FINALE FOR NO REASON OTHER THAN LOW SALES!! But it's also the first example that a series can be "resurrected" and given a finale if the Fates choose to be oh so kind. They have not been kind in 10 years obviously! *side eyes*
9.

13 TO LIFE

by Shannon Delany (2010)--

the book that I only saw/heard about while at my first RT and I fell in LOVE with that cover! The obsession began and I had to wait an agonizing month and a half to get my greedy hands on it! Lol!
8.

OBSIDIAN

by Jennifer L. Armentrout (2011)--

book bloggers unite! We finally made it into print! In some format at least! Lol.
7.

FIRST GRAVE ON THE RIGHT

by Darynda Jones (2012)--

while I didn't necessarily read this one in its release year, I think I read it when the second book was in trade paperback. My copies go book 1: mass market, book 2: trade paperback, book 3-13: hardcover! So I was only a smidge late to the wonder that is Charley! Definitely a favorite series now!
6.

THE BEAUTIFUL AND THE CURSED

by Page Morgan (2013)--

a series with GARGOYLES! GAR-FREAKING-GOYLES!!! I'm not sure when my obsession with gargoyles started, possibly back at the 90s cartoon show but I was thrilled to see them in print! This was a fun trilogy!
5.

POISON PRINCESS

by Kresley Cole (2014)--

I remember reading this as a kindle book originally, but then I bought the real book, because obviously! Lol. It was a read that had its ups and downs and back then I was more likely to give the second book a try if I was even somewhat into book 1, which was a good thing because by book 2 I was HOOKED!
4.

SURVIVE THE NIGHT

by Danielle Vega (2015)--

I can't believe this one's almost 4 years old already! I loved this one! It was super creepy, super weird, and right up my alley! I think this is the one that truly hooked me on Danielle's books!
3.

CRYSTAL STORM

by Morgan Rhodes (2016)--

this one was soooo good! Granted each book in this series only got better and better! But this one! OMG! And that ending!!! It KILLLLLLLED me!! Waiting for the final book was torture! Especially since it didn't release during my birthday week as the past 5 books had!
2.

CARAVAL

by Stephanie Garber (2017)--

this should surprise no one! The idea of this book had me thinking loosely of

The Forbidden Game

by L.J. Smith, which also had a guy named Julian in it! Though the games were VERY different, I was still enchanted by the story!
1.

LEGENDARY

by Stephanie Garber (2018)--

again, not a surprise! I thought I enjoyed Scarlett's story, but I was in no way prepared to adore Tella's!! I can honestly say that she's probably my favorite of the sisters! Younger sisters unite!!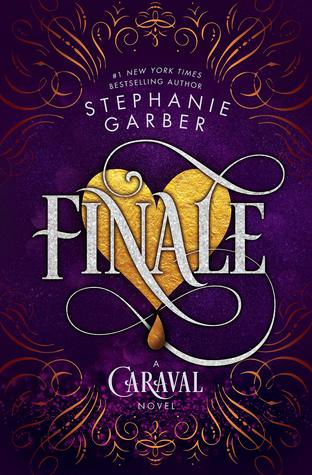 FINALE by Stephanie Garber (2019)--

i

f this one surprises you at this point...well, surprise! Lol!