Stacking The Shelves is all about sharing the books you are adding to your shelves, may it be physical or virtual. This means you can include books you buy in physical store or online, books you borrow from friends or the library, review books, gifts and of course ebooks! The meme is now hosted by Tynga's Reviews and Reading Reality.
Well this was a rather tame week in terms of books, but that's also a good thing!! I didn't add too much this week but I am super excited about all of them!!
Here's what I bought:
Baby, I'm Howling for You by Christine Warren--I still need to finish her Others series, and read the entirety of her Gargoyle series, but I thought I would at least buy the first book in this series because I am glutton for punishment I guess! LOL!
By a Charm and Curse by Jamie Questell--

I took part in B&N's 3/$30 sale last week. Then I added another book to that to spend $40 and save another 15%. But those two books are doubles of ones I have already that are to be saved for something coming up very soon! ;)
The House Next Door by Richie Tankersley Cusick--

I actually had a copy of this one oh so long ago. But I donated it in my pique of "I need to read adult books" phase, but when I saw it in the 3/$30 section I thought, why not?! A ghostly romance story is always fun! Though I am sadden that it had to be the bulky trade paperback instead of the mass market size as that's what it originally was! I mean the font inside is still set in MMPB style/formatting so I don't know why we had to go to the BIG trade size! Plus it's so much bulkier to fit in my purse! LOL!
Then I won the January Discussion Challenge Contest hosted by Nicole at Feed Your Fiction Addiction! It was the prize of any preorder for 2018 so I decided to go with one of my more recent books that I hadn't gotten around to preordering: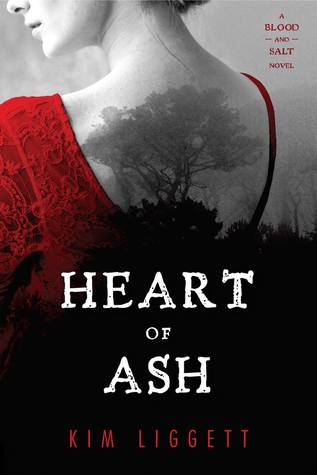 Heart of Ash by Kim Liggett--

so excited to finally have Blood & Salt #2!!
Then for review from the publisher I received:
Ace of Shades by Amanda Foody (ARC)--

and of course I get this one right when I decide to start my KMM catchup marathon! Lol! But as soon as I finish my current read and then read the most latest one I'll be reading this one!
THANK YOU Harlequin Teen!
Then I also got my Fairy Loot box for February. I don't have a picture of the box because I am writing this post super late and am too tired and lazy to do that. But I am TRYING to do my bookstagram pics today, so hopefully I will get to those and will have Fairy Loot in there too! :D
And that was what I got this week! What did you all get?