Here are the rules:

1. Grab your current read
2. Open to a page
3. Pick out 2 lines that are SPOILER FREE
4. Name the title, author, etc.
"When someone liked Barrons walked at a woman's side, he walked there forever, and not even death would come between them. He would never permit it." p 112
TITLE: Feverborn
AUTHOR:

Karen Marie Moning
PUBLISHER:
Delacorte Press
GENRE:
Urban Fantasy
RELEASE DATE:
January 19, 2016
Top Ten Tuesday was created by The Broke and the Bookish in June of 2010 and was moved to That Artsy Reader Girl in January of 2018. It was born of a love of lists, a love of books, and a desire to bring bookish friends together.
This week's topic is:
Books I Could Re-read Forever
10.

DEMON IN MY VIEW

by Amelia Atwater-Rhodes

--

back in the Dark Times when there was hardly any Paranormal YA books to be had, I would re-read this one a lot! I used to keep track of how many times I read it too! Since it's much shorter than my normal reads I am sure I could knock this one out in a day!
9.

OLD MAGIC

by Marianne Curley

--

this is another one that I re-read a handful of times! It was still the Dark Times when I happened upon this beauty and fell in love! So naturally, way back then, I would re-read those hidden gems!
8.

POISON STUDY

by Maria V. Snyder

--

I think I did re-read this one! At least once! This was during the rough patch where I was trying to find "adult" paranormal reads and happened upon a fantasy one instead! There's magic, so magic is therefore paranormal! ;)
7.

HALFWAY TO THE GRAVE

by Jeaniene Frost

--

this is another that I think I re-read at least once! As you could see I was finding myself some adult paranormal reads and enjoying myself! So I would re-read those as I waited for the next release to come out! *back then, I wasn't as savvy as I am now and didn't really know when new books came out unless Amazon told me! Lol!
6.

STRAY

by Rachel Vincent

--

pretty sure this was another I did re-read at least once! I loved this one! And it was such a fun "risk" I took since I wasn't sure if it was a true Urban Fantasy read! But it was! And I LOVED it!
5.

OBSIDIAN

by Jennifer L. Armentrout

--

shockingly I did only read this one once! This was likely during the height of my TBR forming and I didn't have time for re-reads. Still really don't!
4.

NOCTURNE

by Syrie James

--

I would love to re-read this one again too! Even though I was a little heartbroken over the ending!
3.

THE MEDIATOR: SHADOWLAND

by Jenny Carroll aka Meg Cabot

--

this was another one of those hidden gems I found while I scoured for a Paranormal YA book in my teens! This was a most happy surprise that I fell in love with! I would totally re-read this one again if I had time! Of course then I'd have to re-read the other 6 too!! :D
2.

THE NAMED

by Marianne Curley

--

I'm including this one because I DO plan to re-read this one VERY soon! Not as soon as I'd like because I am in the middle of a KMM marathon then I have a review book waiting, but AFTER THAT! I will be re-reading this series because Marianne has a NEW addition coming out next month!!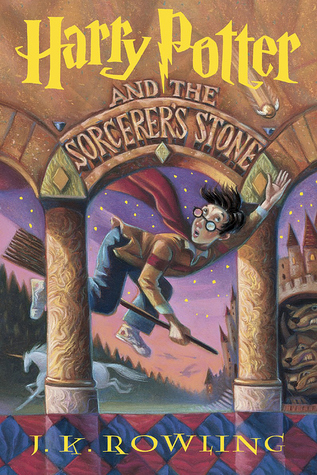 1.

HARRY POTTER AND THE SORCERER'S STONE

by J.K. Rowling

--

I know a LOT of people re-read this one constantly, but as I've said before I rarely have time for re-reading because there are 300+ books waiting to be read for the first time. But I would love to re-read this one again! I know I had to have read it a handful of times as it was read to me first by a teacher, then I read it by myself and I am sure after that I re-read it at least once more!
And I'm cutting myself off here because I could literally go on and on!