Here are the rules:

1. Grab your current read
2. Open to a page
3. Pick out 2 lines that are SPOILER FREE
4. Name the title, author, etc.
YES! I am FINALLY reading this one!!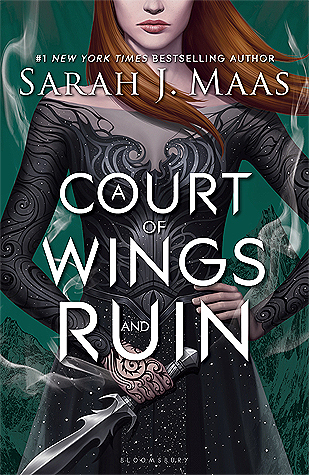 "A nightmare, I told Tamlin.



I was the nightmare." p 50
TITLE: A Court of Wings and Ruin
AUTHOR:

Sarah J. Maas
PUBLISHER: Bloomsbury USA Childrens
GENRE: Fantasy YA
RELEASE DATE: May 2, 2017
Top Ten Tuesday was created by The Broke and the Bookish in June of 2010 and was moved to That Artsy Reader Girl in January of 2018. It was born of a love of lists, a love of books, and a desire to bring bookish friends together.
This week's topic is:

Books that Have Been on my TBR the Longest & I STILL Haven't Read...But Still Want To!
**okay, I'm pretty much taking these right off of Goodreads from when said books were added! It's gonna be scary! LOL!
10.

DEAD GIRLS ARE EASY

by Terri Garey

--

I got this recommended to me from a blogger friend in the early days! I don't think she's blogging anymore. Sigh...even sadder? I bought this (along with the others in the series at the time--as I do believe another might have been added but only as an ebook) at BORDERS! Excuse me a moment...*sobs uncontrollably.
9.

NIGHT WORLD: VOLUME 1

by L.J. Smith

--

sniff, another book I bought at Borders during their closing sales! Along with the above book/series. I actually found Volume 3 at TJ Maxx for $3, which prompted me to head on over to Borders to get the first two volumes. And this might have been that terrible, terrible day I learned of it closing! I really can't remember if that's 100% accurate.
8.

DARK VISIONS

by L.J. Smith

--

another book I found at TJ Maxx. Ironically ever since that year (2009-2010?) I've never really found a good collection of books at that store again! Sigh. I loved L.J.'s

Forbidden Game and Vampire Diaries

, so I wanted to try her other books out too!
7.

RUBY RED

by Kerstin Gier

--

this was one of the very first books I ever won! I think it was from a blog and I was so excited to read it...but then it just got buried in the TBR pile because I was buying quite a hoard of books from Borders too, you see.
6.

THE ROSE BRIDE

by Nancy Holder

--I picked this one up some odd years ago--likely in that 2009-2011 or 2012 timeframe--when Nancy and her co-author Debbie Viguie visited my humble little city! I was ecstatic to meet them as I adored their Wicked Series! This Once Upon a Time series was another fave of mine that I never really completed, but I picked up her additional book because why not?!
5.

SAVOR

by Megan Duncan

--

I can't remember why I bought this one. More than likely I read a review I liked and it really got me interested so I downloaded it on my kindle. Think that's on my first kindle too! So I'll likely need to move it to my new one! Lol!
4.

DARK HEART FOREVER

by Lee Monroe

--

another ebook I bought when I read another review about it that really made me want to read it! This one was a werewolf story, if the cover didn't clue you in! Lol! I still would like to read this one as well someday!
3.

EMBERS

by Laura Bickle

--

this one I picked up at an RT Conference. Possibly in 2010 if not 2012! I actually got both books so it was pretty cool...I just need to read it! Lol!
2.

A TASTE OF THE NIGHTLIFE

by Sarah Zettel

--

another book I acquired at RT! I think I won it in a game of some sort! When I went to get it signed later, because I was one of the first, I got the second book free as well! Super cool! Vampire mystery series, I seriously need to get on this!
1.

TOUCH OF FROST

by Jennifer Estep

--

lastly, I acquired this one--and pretty much the entire series--at another RT Conference! I seriously ended up getting all of them but like the 5th book I think. So I bought that one! All 6 books are stacked up in a pretty little stack just waiting to be read! If only I didn't need to sleep...sigh...that would solve soooo many TBR issues! Lol!!