Another venture into Dave Smith's Disney Facts Revealed: Answers to Fans' Curious Questions! After this week--because again, I had to plan ahead and it's still December so I can't check my desk calendar ahead because that would be cheating! lol--I will share in a post all the mistakes I found so easily in the Disney Desk Calendar of 2017! Mistakes that make me flinch because it was obvious the writers didn't check their facts!
(image borrowed from Travel & Leisure)
As of 2016 when the book was published, the rides that were at Disneyland when it first opened in 1955 and that are still there today, though they might have been revised or renamed, are King Arthur Carrousel, Peter Pan's Flight, Mad Tea Party, Snow White's Adventures, Mr. Toad's Wild Ride, Autopia, Santa Fe and Disneyland Railroad, Horse-drawn Streetcars, Main Street Cinema, Jungle Cruise, Mark Twain's Riverboat, and Penny Arcade.
(image borrowed from Haunted Mansion Wiki)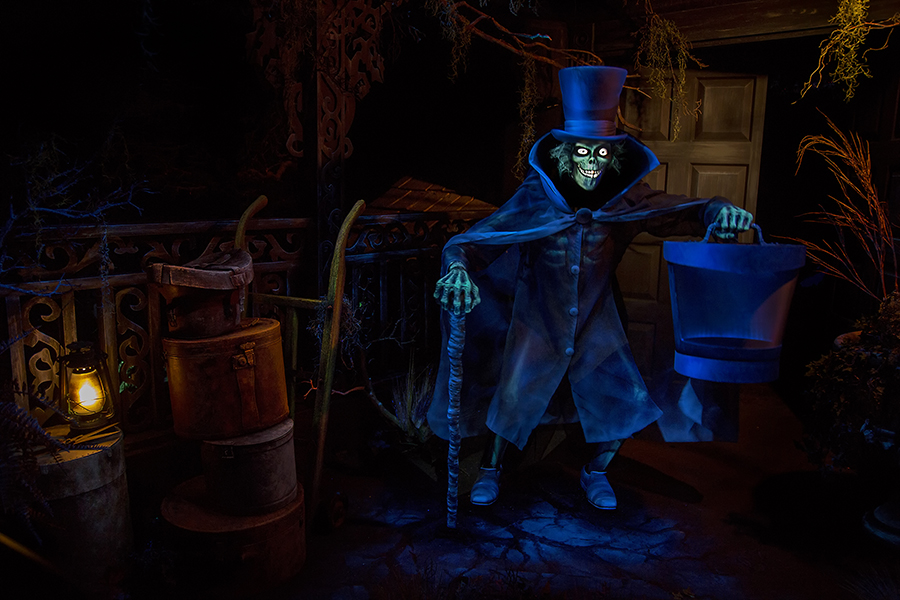 Apparently, the Hatbox Ghost was removed from the Haunted Mansion in Disneyland because the special effects never worked well enough. His current location was never really revealed and it's believed that he was destroyed. He apparently has his own website at www.thehatboxghost.com. In 2015, as a part of Disneyland's 60th Anniversary celebration, an updated Hatbox Ghost was added to the Haunted Mansion.
(image borrowed from Disneyland Daily Photo)
The clock on the Sleeping Beauty castle is always stopped on a certain time. Fans have debated if it's stopped at the time of Walt Disney's death or perhaps his dedication speech when Disneyland opened. It's been revealed, sadly, that the position of the clock hands is just random. In 1996 when it was installed, it was a refurbishment and has never worked since it was acquired.
(image borrowed from Disneyland.disney.go.com)
In the line for the Buzz Lightyear Astro Blasters at Disneyland there are murals showing the ride vehicles, there are score marks that look like dates and truthfully, only one of the scores is an actual date, a birthday for someone. Though it's said that the names of the designers are hidden on the graphics as planet names.
(image borrowed from Pinterest)
The Haunted Mansion was originally going to be a walking ride where guests walk through and admire the creepiness of the mansion, but it was quickly scrapped because imagineers thought there would be a backup of guests. And thus, the Doom Buggies were born!
(image borrowed from D23.com)
Paul Frees did narration voicing for both The Haunted Mansion and the Monsanto Adventure. Walt had actors who he really liked using for certain projects and when one came up that he thought would be the right fit for said actor, he would use them for that role.
(image borrowed from disneytouristblog.com)
No idea related to Disney Parks is ever scrapped entirely. When an idea doesn't work, it gets shelved for possible later use. There was once an idea in the early 1900s for a DisneySea natuical-themed park for Long Beach, CA that finally came into existence in 2001 in Tokyo!