Here are the rules:

1. Grab your current read
2. Open to a page
3. Pick out 2 lines that are SPOILER FREE
4. Name the title, author, etc.
"Simon waited for her to regain control of her emotions. Obviously he'd stomped on her tail by asking what he'd thought was a simple opening question. And he wondered just how much teasing she had received--and why human males would train a female to shoot a gun and then tease her into being angry enough to shoot them." p 81
TITLE: Etched in Bone
AUTHOR:

Anne Bishop
PUBLISHER:
Roc
GENRE:
Urban Fantasy
RELEASE DATE:
March 7, 2017
Top Ten Tuesday was created by The Broke and the Bookish in June of 2010 and was moved to That Artsy Reader Girl in January of 2018. It was born of a love of lists, a love of books, and a desire to bring bookish friends together.
This week's topic is:
Books I Really Liked but Can't Remember Anything/Much About
**so last week I made a goof! A huge goof so early in the new year! I did this week's topic last week instead of the one assigned! I think I figured out how it happened too, I was used to The Broke and Bookish not always removing the old topics so I looked to the second one without really seeing the date. And thus here we are! So since I did this week's already, I'm going back to last week's!
10.

STRAY

by Rachel Vincent

--

so my memory might be a little rusty with this one and the series at large. I remember some things and being happy with the ending, so that's good!
9.

MY SOUL TO TAKE

by Rachel Vincent

--

again, I can't really remember much about this one at all! I have a few little memories about the series as a whole, but again, just bits and pieces.
8.

THE GODDESS TEST

by Aimee Carter

--

have almost no memory recollection of this one. Though I did adore it!
7.

INTERTWINED

by Gena Showalter

--

it's with great sadness that I add this one to the list! I had full intentions to re-read the series when the final book came out. Then Gena came back and said for the second time it wouldn't be coming out. That was a most soul crushing day indeed! I was totally enthralled with this one! It was practically the first time I read from the male pov and I loved it!
6.

THE SCENT OF SHADOWS

by Vicki Pettersson

--

another series I totally fell in love with! Super heroes and villains, action...and other stuff! I can't even remember vagueities. Though I have small memories about the series at large and positively loving it by the finale!
5.

NIGHTWALKER

by Jocelynn Drake

--

another series that adored from start to finish and yet here I am not remembering much at all! I can remember loving the relationship between heroine and hero though from the very getgo!
4.

THREE DAYS TO DEAD

by Kelly Meding

--

I remember this was one of the first books I ever won from a giveaway! It was a new to me author and I remember falling in love with this series. Then it was cancelled but the author self-pub the remaining books. I STILL need to read the final one which will prove to be problematic for my poor memory!
3.

ISLE OF NIGHT

by Veronica Wolff

--

another series I fell quickly in love with though I can't quite remember the series at large much either. There are vague memories but I remember reading the series finale last year was even a bit of a struggle because it had been too long since I read the previous one!
2.

HUSH, HUSH

by Becca Fitzpatrick

--

I miss this author! I haven't read anything from her in years. I remember diving into this series at random, possibly because people kept saying awesome things about it. Quickly fell in love because it was just so awesome. Though again, I can only remember pieces of it. Was always sad that the graphic novel version never took off (other than the first installment). :(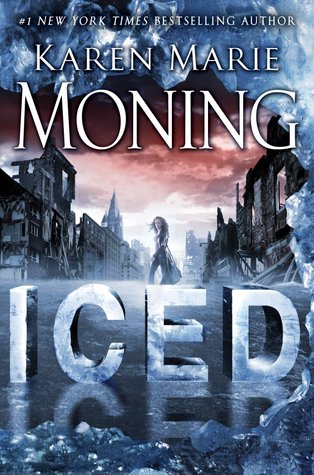 1.

ICED

by Karen Marie Moning

--

I soo need to get caught up in this series but it's been ages since I read

Iced

. I even read it late because I knew the next installment was going to be delayed. And here I am with next to no memory about what happened! Eek!