Here are the rules:

1. Grab your current read
2. Open to a page
3. Pick out 2 lines that are SPOILER FREE
4. Name the title, author, etc.
Oh yeah! I'm getting caught up in The Others series!! One more book to go! And at the time of writing this I am nearly at the halfway point!! To help set this scene, Meg and her fellow female friends are watching as the guys lead a bunch of bison into the Lakeside Courtyard.
"'What are you going to call them?' Meg asked.





'Lunch?' Simon offered.





The female pack gave him a look that made him think running away would be a good idea, if he wasn't the leader and couldn't back down."

p 177




TITLE: Marked in Flesh
AUTHOR:

Anne Bishop
PUBLISHER:
Roc
GENRE:
Urban Fantasy
RELEASE DATE:
March 8, 2016
Top Ten Tuesday was created by The Broke and the Bookish in June of 2010 and was moved to That Artsy Reader Girl in January of 2018. It was born of a love of lists, a love of books, and a desire to bring bookish friends together.
This week's topic is:
Books I Can't Believe I Read
**I'm saying I can't believe I read these books for various reasons, shock, astonishment, embarrassment...lol!
10.

WRITTEN IN RED

by Anne Bishop

--

yup! The very series I am reading astonishes me that I am reading it! It definitely has a slower pace to it than I would normally prefer, but the characters are truly amazing and what keeps me coming back again and again!
9.

HALFWAY TO THE GRAVE

by Jeaniene Frost

--

as I might have mentioned, I stumbled upon this one in the romance section of Borders. Sadly I had been "burned" before by books Borders shelved in romance because I was thinking maybe it wouldn't be OVERLY romantic filled but it was. *shudders* I was amazed by how much I loved this one and how the romance was only a small part of the story!
8.

STRAY

by Rachel Vincent

--

you can pretty much take that same answer from above and apply it here! You also want to take note that when I was making my decisions over these, I wasn't in the blogosphere yet. I had no one to get opinions from or advice on books! So my taking the plunge on these two, was a seriously big leap of faith! Lol!
7.

TWILIGHT

by Stephenie Meyer

--

I am ashamed to admit I read this series! I know a lot of people loved it or that it just holds a special place in their heart. But me? I am sooo ashamed! I read it out of curiosity because everyone was talking about, the movie was slated to release in about a year, so I thought let's give this a try. It was okay. Nothing extraordinary. I had read a lot of paranormal or vampire YA books already so this one was just meh. I think I was more irked later on when people wanted to say books that predated

Twilight

were too much like

Twilight

...they obviously didn't bother to check publication dates and just thought oh this new covered book came out after

Twilight

, it is definitely trying to be like

Twilight

. It's a long standing "thing" that just enrages me. Lol.
6.

THE COUNT OF MONTE CRISTO

by Alexandre Dumas

--

there's nothing paranormal. Nothing fantasy. Yet this tome of a book completely enraptured me when I read it! I guess I have a vindictive side and looooved seeing the Count get his revenge...even if it took decades to put into the works!
5.

TIGER'S CURSE

by Colleen Houck

--

another one that was pretty long and loaded with mythology, I admit I was overwhelmed at times, but yet I couldn't get enough of the series! Cannot wait for book 5 in the coming months!!
4.

SHATTER ME

by Tahereh Mafi

--

I had seen people gushing over this book, so when I found it in the bargain section one day I decided to try it out. Despite a few issues I really did enjoy it! I cannot wait to see how the new additions will play out because omg, I can't wait to return to the gang!!
3.

FIRST GRAVE ON THE RIGHT

by Darynda Jones

--

when I initially saw this book, I admit, the cover turned me off. I thought it would be a "chick book" despite the scythe and skull sandals on the cover. I must have read a review or two before finally breaking down and buying a copy...then OMG I was hooked!
2.

ZERO REPEAT FOREVER

by G.S. Prendergast

--

this novel isn't for everyone, I will admit that. Again, we have a slower pace and for some reason, I was still hooked! There's just enough details being revealed, just enough mystery and questions going on that had me turning the pages as fast as I could!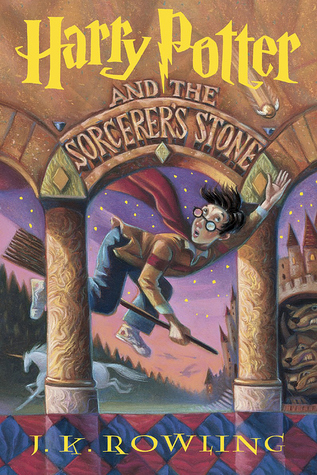 1.

HARRY POTTER AND THE SORCERER'S STONE

by J.K. Rowling

--

yup, I had hesitancy over this one!! I didn't read it when it came out, it was more around when there were 3 books out our teacher was reading it to us and I found myself really into the story! My main reason for avoiding it at the time? Because it was about a boy! Lol! Yeah, I was a weird kid. When I read, I would place myself in the story and I couldn't picture myself as a boy or felt like I could get interested in a boy's story! Well, our teacher reading it to us proved that it was possible! So Harry was pretty much my first book from the male point of view!