Here are the rules:

1. Grab your current read
2. Open to a page
3. Pick out 2 lines that are SPOILER FREE
4. Name the title, author, etc.
"Great. Great. I've somehow found myself tangled up with a sire, a mermaid, and a homicidal wicked witch who has made it clear on more than one occasion that she is definitely NOT Team Sand. Way to go, Amber! Why don't I just arm-wrestle a dragon and piss off a necromancer while I'm at it?

Kindle loc. 15%

*
*
This quote comes from the eARC therefore, it and its location are NOT final.
TITLE: The Sweetest Kind of Fate
AUTHOR:

Crystal Cestari
PUBLISHER:
Disney-Hyperion
GENRE:
Magical Realism YA
RELEASE DATE:
February 13, 2018
Top Ten Tuesday is an original feature/weekly meme created at The Broke and the Bookish. This feature was created because we are particularly fond of lists here at The Broke and the Bookish. We'd love to share our lists with other bookish folks and would LOVE to see your top ten lists!

Each week we will post a new Top Ten list that one of our bloggers here at The Broke and the Bookish will answer. Everyone is welcome to join. All we ask is that you link back to The Broke and the Bookish on your own Top Ten Tuesday post AND add your name to the Linky widget so that everyone can check out other bloggers lists! If you don't have a blog, just post your answers as a comment. Have fun with it! It's a fun way to get to know your fellow bloggers.
This week's topic is:
Ten Books I Meant To Read In 2017 But Didn't Get To (and totallyyyy plan to get to in 2018...hopefully!!)
10.

THE SKYLIGHTER

by Becky Wallace

-

-I STILL need to read this one! And I have NO notes from

The Storyspinner

! I am in so much trouble! Lol!
9.

SHATTERED

by Kevin Hearne

--

soooo need to get caught up with this series! Another one where I lack notes! Hopefully I can just binge those last few books!
8.

SENSE OF DECEPTION

by Victoria Laurie

--

oddly, not too behind in this one. 3 books, but compared to other series that's not so bad!
7.

KEEPER OF THE CASTLE

by Juliet Blackwell

--

another series I fell behind in! Think this one too is just about 3 books!
6.

SPELLCASTING IN SILK

by Juliet Blackwell

--

when authors have 2 series running or more, it becomes exceedingly hard to stay on top of them all! Lol!
5.

TORN

by Jennifer L. Armentrout

--

I've pretty much given up on trying to be totally caught up with her books! Okay, I am going to try to make that a goal this year!
4.

THE SWEETEST BURN

by Jeaniene Frost

--

I am in trouble here too! I read the first book as an ARC. That was ages ago. Before my note-taking days. Send help.
3.

ARCHANGEL'S SHADOWS

by Nalini Singh

--

sooo very far behind in this series! Eek! And again, no notes!! What was I thinking way back then?!
2.

VISION IN SILVER

by Anne Bishop

--

really want to get caught up with this one too! I do believe I have notes with this series! So yay!!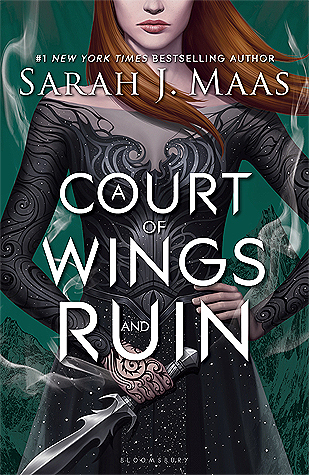 1.

A COURT OF WINGS AND RUIN

by Sarah J. Maas

--

heard so many things about this one. Some good, some not so good. I am dying to read it! This might actually be top priority after my review books!