Here are the rules:
1. Grab your current read
2. Open to a page
3. Pick out 2 lines that are SPOILER FREE
4. Name the title, author, etc.
Okay, so I'm going to give you a tease from one of my reads yesterday. Yes, it's not my current read, but I hadn't started my current read at the time of this post and really wanted to share this teaser with you anyway! I loved it!
"Right there, Steve thought. She'd reached a limit, which meant she had them. It also meant she wouldn't try to kill him.



Probably." Kindle location 328/1774








TITLE: Lay Me Down
AUTHOR:

Erin Kellison


PUBLISHER: Fire Flower Publishing, LLC
GENRE: Paranormal Romance
RELEASE DATE: May 10, 2014
Top Ten Tuesday is an original feature/weekly meme created at The Broke and the Bookish. This feature was created because we are particularly fond of lists here at The Broke and the Bookish. We'd love to share our lists with other bookish folks and would LOVE to see your top ten lists!

Each week we will post a new Top Ten list that one of our bloggers here at The Broke and the Bookish will answer. Everyone is welcome to join. All we ask is that you link back to The Broke and the Bookish on your own Top Ten Tuesday post AND add your name to the Linky widget so that everyone can check out other bloggers lists! If you don't have a blog, just post your answers as a comment. Have fun with it! It's a fun way to get to know your fellow bloggers.
This week's topic is:
Ten Books That Will Be In My Beach Bag This Summer
We'll say this is a metaphorical beach bag since I don't have a beach to go to!
Going to try to keep this list to books I have, since when I started it, I was picking new releases and that's a topic for a week to come! So had to amend it!
1. Mortal Danger by Ann Aguirre--

true, it's a review book, but one that had me curious
2. Midnight Thief by Livia Blackburne--

another review book, but again, more curiosity
3. Wings by Elizabeth Richards--

dying to see how this trilogy ends!
4. Shattered by Kevin Hearne--

an adult book, finally! ;)
5. Black Rook by Kelly Meade--

curious about this new series of hers!
6. Between the Lines by Jodi Picoult & Samantha Van Leer--

one I've had since its release and signing day!
7. Dead Girls are Easy by Terri Garey--

might start getting a little overly optimistic by choosing TBR books from the bottom of the stacks
8. Night World: Volume 1 by L.J. Smith--

from a Borders closing sale :'(
9. Taste if the Nightlife by Sarah Zettel--

from my first RT in 2010!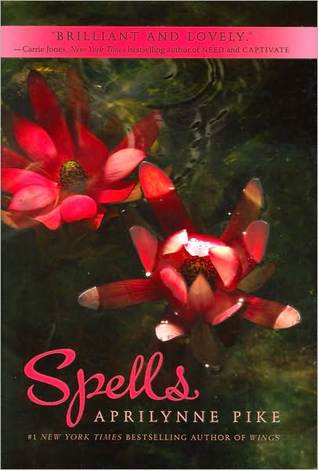 10. Spells by Arpilynne Pike--

another series I've had in my TBR pile for far too long!