Awhile back on a friend's blog Readers in Wonderland, Bec had a post up about 5 favorite standalones and that got me wanting to list a few of my favorite standalones as well!
Heartless by Marissa Meyer--I really enjoyed this one! I've always loved fairy tale retellings or "origin" stories! This one about how the Queen of Hearts came to be the villain that she is in the literary classic Alice in Wonderland. It was quite entertaining and a little heart-wrenching!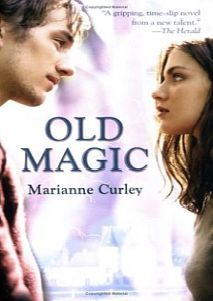 Old Magic by Marianne Curley--

of course I have to mention this one! This one was a favorite of mine as a teen! I re-read it half a dozen times or so! It was just sooo good! Magic, time travel, romance! What more could a paranormal craving teen ask for?
Swerve by Vicki Pettersson--

I love Vicki's books so when I heard she had a thriller coming out in 2015 I was most excited! It was really good! At least in my opinion! It had the right amount of creepy! I can't remember if I guessed the whodunit or not, but it was definitely a chilling read!
Nocturne by Syrie James--

I have so much love for this book! I can't quite remember how I stumbled upon it. Probably from another blogger but sadly I can't remember who. They might have retired by now. But this one was a standalone that pulled at all my heartstrings! It's a vampire romance with a flair of Beauty and the Beast, at least I always thought so! I mean the rose on the cover pretty much gives that impression too!
Fateful by Claudia Gray--

three words: werewolves and Titanic! Because yes, that's exactly what this story is about! Plus add in some romance and you have the makings of a truly unique kind of read! Though, as I look at it, I can't make sense of this cover! Is she really standing in the Atlantic?! She's not the werewolf FYI! Lol! The UK cover was a bit better in my opinion. She's actually standing on the Titanic, though her dress may be over the top.
And this is where I will cut myself off! I may refer back to standalones for a TTT post one day! So you'll likely see these 5 again because they are truly among my favorites!! Do you have any favorite standalones? Ones that you so readily enjoyed and would've loved for there to be MORE but yet at the same time, like that it's a standalone?