Here are the rules:

1. Grab your current read
2. Open to a page
3. Pick out 2 lines that are SPOILER FREE
4. Name the title, author, etc.
"I felt the burn of a flush at my cheeks as he moves ever closer. His breath is a delicate breeze on my hair when he says, 'In fact, at this moment, I am not a king at all, but a servant. Your servant, Sepora.'



Saints of Serubel. Now he's as serpentine as Sethos can be. 'My servant? Well then, Tarik My Servants, go throw yourself from the Half Bridge.'"

p 37*
*

Quote comes from the ARC, therefore it and its page number are not final.
TITLE: Ally
AUTHOR:

Anna Banks
PUBLISHER:
Feiwel & Friends
GENRE:
Fantasy YA
RELEASE DATE:
October 3, 2017
Top Ten Tuesday is an original feature/weekly meme created at The Broke and the Bookish. This feature was created because we are particularly fond of lists here at The Broke and the Bookish. We'd love to share our lists with other bookish folks and would LOVE to see your top ten lists!

Each week we will post a new Top Ten list that one of our bloggers here at The Broke and the Bookish will answer. Everyone is welcome to join. All we ask is that you link back to The Broke and the Bookish on your own Top Ten Tuesday post AND add your name to the Linky widget so that everyone can check out other bloggers lists! If you don't have a blog, just post your answers as a comment. Have fun with it! It's a fun way to get to know your fellow bloggers.
This week I borrow a topic idea from my friend Tracy at Cornerfolds, who actually found it on the list TB&TB have posted! :D
This week's freebie topic is:

Top Ten Books I've Loved But Were Never Reviewed
i.e. The Pre-Blogging Years
10.

BITTEN

by Kelley Armstrong

--

I know I have reviews of some of Kelley's Otherworld books, but it looks like the early ones, including Bitten, never made it to the blog!
9.

POISON STUDY

by Maria V. Snyder-

-

now I know I must have read this one when I created my blog, but as I mentioned in previous posts in the early days I didn't review everything I read.

Spy Glass

was the first Maria book that I reviewed apparently!
8.

DEMON IN MY VIEW

by Amelia Atwater-Rhodes

--

yup never reviewed this one either! I read it wayyyyyy before blogging was even an idea! Yet it still remains one of my favorites. It's possible if I re-read it I would find flaws, but that's because I've read soooo much! And YA was soooo different back then too.
7.

OLD MAGIC

by Marianne Curley

--

another beloved favorite from early days! No review for this one either. But I've been contemplating re-reading it and reviewing it for the heck of it! But then I see the 300+ unread new books starting at me and guilt makes me rethink it!
6.

FULL MOON RISING

by Keri Arthur

--

never reviewed my first Keri Arthur book either. This one was out way before blogging began as well, but I know I have some of this series up in my archives!
5.

DEAD WITCH WALKING

by Kim Harrison

--

another one of those series that I started reading before blogging so this one won't be found with a review either!
4.

THE FORBIDDEN GAME TRILOGY

by L.J. Smith

--

I love love love this series! Read it again, a loooong time ago, so no review exists! I always thought L.J. might write another installment, as I heard it somewhere, but as time moves on, I begin to think it may not happen after all! Oh Julian!!
3.

BLOOD & CHOCOLATE

by Annette Curtis Klause

--

love this one!! SOOO much better than the movie, aren't they always? But seriously WAY better than the movie for it got nothing right other than the werewolf girl falls in love with a human boy! That's a rant for another time though.
2.

THE MEDIATOR: SHADOWLAND

by Jenny Carroll

--

will always refer to these first 4 books as written by Jenny vs. Meg. Old habit! I adored this series! Though again, read it lightyears before the blog, so the only one with a review was the beloved

Remembrance

!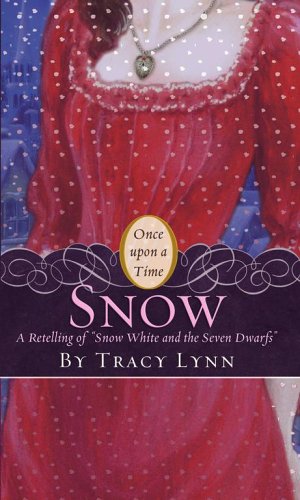 1.

SNOW

by Tracy Lynn

--

another favorite from my youth! It was a most fantastic retelling of

Snow White

! There are elements to the original fairy tale, yet it stands out on its own as well! Totally amazing! I outta re-read that one too!