Here are the rules:

1. Grab your current read
2. Open to a page
3. Pick out 2 lines that are SPOILER FREE
4. Name the title, author, etc.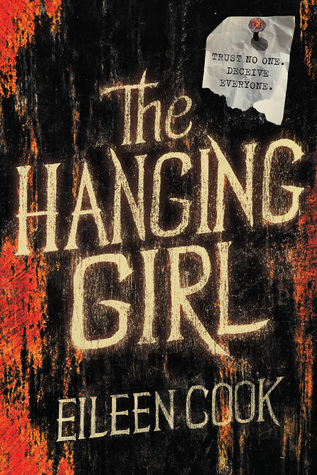 "The sound of the blood rushing inside my ears blocked out what he said next. There was just a whooshing noise growing louder and louder."

p 161
TITLE: The Hanging Girl
AUTHOR:

Eileen Cook
PUBLISHER:
HMH Books for Young Readers
GENRE:
Thriller YA
RELEASE DATE:
October 3, 2017
Top Ten Tuesday is an original feature/weekly meme created at The Broke and the Bookish. This feature was created because we are particularly fond of lists here at The Broke and the Bookish. We'd love to share our lists with other bookish folks and would LOVE to see your top ten lists!

Each week we will post a new Top Ten list that one of our bloggers here at The Broke and the Bookish will answer. Everyone is welcome to join. All we ask is that you link back to The Broke and the Bookish on your own Top Ten Tuesday post AND add your name to the Linky widget so that everyone can check out other bloggers lists! If you don't have a blog, just post your answers as a comment. Have fun with it! It's a fun way to get to know your fellow bloggers.
This week's topic is:

Ten Books that Feature Characters who are Killers
**I clearly have Halloween on the brain so forgive the gruesome topic!
10.

TEN

by Gretchen McNeil

--

I write this post super early for reasons, and I am eagerly anticipating watching this movie version! Teens stranded on an island with no contact to the mainland and there's a killer on the loose somewhere as they all start dying one by one!!
9.

GET EVEN

by Gretchen McNeil

--

Gretchen writes yet another delightful (lol) story where this group of friends is being stalked in a sense by a killer!
8.

THE BODY FINDER

by Kimberly Derting

--

this one involves a teen girl who can find dead bodies, usually murder victims. Even more eerie is that we get chapters from the killer's POV!!
7.

NEARLY GONE

by Elle Cosimano

--

one involving a serial killer on the loose and his notes that he leaves behind are a puzzle that Nearly just might be able to solve! Very good read! The sequel too! I wish there were MORE!
6.

CITY OF THE LOST

by Kelley Armstrong

--

while our heroine has killed before, it's not exactly what you might think. When she comes to this town to help hide her BFF, she ends up finding herself solving a murder among the residents!
5.

BLACK ICE

by Becca Fitzpatrick

--

our heroine who gets kidnapped by her foes must help them get through the woods. And it becomes clear that murders have taken place nearby!
4.

THE DEAD LIST

by Jennifer L. Armentrout

--

a TBR read that I must get to asap! After an attempted murder and having the murderer, likely, stalking her afterward definitely makes for a chilling read.
3.

YOU

by Caroline Kepnes

--

still need to obtain a copy, but this one sounds creepy good! Our stalker/maybe a killer is our person of interest aka storyteller!
2.

THE DEVIL YOU KNOW

by Trish Doller

--

another TBR read where our heroine for whatever reason takes a road trip with two brothers she JUST MET and oh yeah...one of them is likely a killer!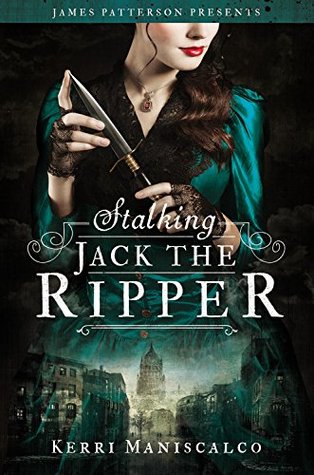 1.

STALKING JACK THE RIPPER

by Kerri Maniscalco

--

oh how I loved this one!! Audrey Rose is out to prove her uncle isn't Jack the Ripper by finding the real killer. So obviously we have a killer on the loose. I still can't believe I didn't see the identity coming! I still feel sideswiped by that! LOL!