Here are the rules:

1. Grab your current read
2. Open to a page
3. Pick out 2 lines that are SPOILER FREE
4. Name the title, author, etc.
Omg. I am loving this one!! And I dare you to tell me you're not singing the song after reading this teaser! ;)
"It was the song she had sung after she rescued him, the song that had burst unbidden out of her heart as he lay there, unconscious. It described the beauty of the sea and the land and the mortality of humans and the wonder of life. It had poured out of her like life itself." p 76*
*

Quote comes from the ARC, therefore it and its page number are not final.
TITLE: Part of Your World
AUTHOR:

Liz Braswell
PUBLISHER:
Disney Press
GENRE:

Disney Movies Retold

--what do we call this?! Lol.
RELEASE DATE:
September 4, 2018
Top Ten Tuesday was created by The Broke and the Bookish in June of 2010 and was moved to That Artsy Reader Girl in January of 2018. It was born of a love of lists, a love of books, and a desire to bring bookish friends together.
This week's topic is:

Popular Books that Lived Up to the Hype
**and needless to say that this is in my opinion! Lol!
10.

ZERO REPEAT FOREVER

by G.S. Prendergast

--I remember seeing a lot of hype and buzz over this one and since it was claimed to be for "fans of The 5th Wave" I decided to give it a shot and I really liked it despite the slower pace! Which is really weird!
9.

THE WINNER'S CURSE

by Marie Rutkoski

--there was a LOT of hype for this series and I eventually gave in at some point. It was around the third book releasing because I know I was able to binge read them all just before meeting the author! So glad I did too!
8.

STALKING JACK THE RIPPER

by Kerri Maniscalco

--there was lots of buzz over this one and I was pretty much game for it once I saw "Jack the Ripper"!
7.

THERE'S SOMEONE INSIDE YOUR HOUSE

by Stephanie Perkins

--I remember a lot of hype about this one before its release! It seemed to be what everyone was talking about. I think afterwards the reviews were kind of mixed, but I honestly LOVED it! It was just the kind of creepy I like in my thrillers!
6.

ILLUMINAE

by Amie Kaufman & Jay Kristoff

--I was a tad late to the game on this one...basically waiting until Gemina came out! Lol! There was so much hype and at first I didn't get it, but after reading it I was in love!
5.

A COURT OF THORNS AND ROSES

by Sarah J. Maas

--like any book of hers there was a LOT of hype to this one! While her first series did nothing for me, THIS one I did love! I LOVE BATB and faeries in general, so this was a winner in my opinion!
4.

THE KISS OF DECEPTION

by Mary E. Pearson

--

LOVED this one! I remember all the excitement and mystery of who we thought was who and all that whatnot! I know it wasn't a winner with everyone, but I positively loved it!
3.

THE LANGUAGE OF THORNS

by Leigh Bardugo

--

is there anything Leigh writes that doesn't live up to the hype? I haven't read one yet to be honest! Lol! This one though is probably my favorite since I LOVE fairy tales and I found this one to be dark, magical, and creepy!
2.

OBSIDIAN

by Jennifer L. Armentrout

--

pretty much like I said with Leigh...is there anything this woman has written that I didn't love?! Granted I skip the contemporaries but from what I've read, I loved it all! This was one that was either loved or hated, but with all the loved there was a lot of hype! I mean, she was a blogger, how could you not get excited about that?! Lol!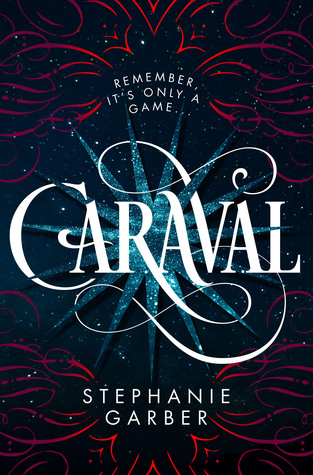 1.

CARAVAL

by Stephanie Garber

--

no one should be surprised by this one! Why I was slow to join the hype...ie: I hadn't heard about it prior to getting an ARC and then gave it to my friend who desperately needed it...I was soon totally game about a month or so before its release! I read it, loved it, and immediately began collecting it! Lol! So yes, I'd say this one lived up to the hype!