Stacking The Shelves is all about sharing the books you are adding to your shelves, may it be physical or virtual. This means you can include books you buy in physical store or online, books you borrow from friends or the library, review books, gifts and of course ebooks! The meme is now hosted by Tynga's Reviews and Reading Reality.
Well the week after Christmas wasn't all that exciting. Work has now taken a turning point of being uber stressful since my company was bought out by another. Every day I am worried they might not want to keep me when the new company "reevaluates." It's a wait and see game and in the meantime I am constantly applying for new jobs and getting no bites. Ugh.
But I got a surprise book in the mail, bought another, and then a delayed Christmas gift from my mom came, so it wasn't too bad of a week! And my cold is nearly gone too, so double yay!
Here's what I bought: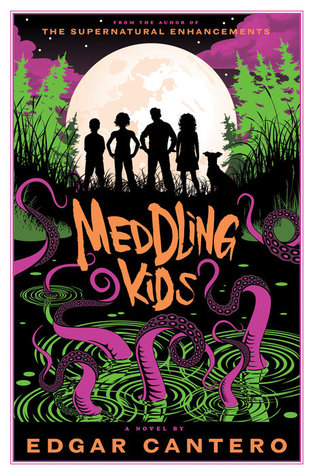 Meddling Kids by Edgar Cantero--

finally bought this one since I had an Amazon Gift card from Christmas! Now it's trying to find the time to read it! LOL.
From the publisher for review I received:
Bloodleaf by Crystal Smith (ARC)--

it came in its own little foldy box with an enamel pin!! I was so excited to see this one in the mail pile!!
Then I also received one of my preorder gifts already:
Character cards from Evelyn Skye's Circle of Shadows. I'm reading this one now and so far feel only so-so, but I am trying to see it through to the end!
And then lastly, one of my Christmas gifts had been backordered apparently. So happy that it arrived! When I saw it online I had to add it to my list because it was a piece I NEEDED!!
It's a Jim Shore piece with BELLE READING A BOOK with the villainous sheep surrounding her! Lol. It's a mostly all white piece with the book being the only focal point of color, but I thought it was pretty and I liked it! A better size compared to the bookend piece that I had as my Belle reading a book statue! LOL.
And that was my haul this week! So not too shabby! Mount TBR didn't topple over with these two extras! What all did you get this week?