Here are the rules:

1. Grab your current read
2. Open to a page
3. Pick out 2 lines that are SPOILER FREE
4. Name the title, author, etc
"'They were going to let me die, Persephone! She had already accepted it because you are so much more fucking important than me!'"

Kindle loc. 45%





TITLE: Daughter of Earth and Sky
AUTHOR:

Kaitlin Bevis
PUBLISHER:
ImaJinn Books
GENRE:
Mythology/Fantasy YA
RELEASE DATE:
December 20, 2012
Top Ten Tuesday is an original feature/weekly meme created at The Broke and the Bookish. This feature was created because we are particularly fond of lists here at The Broke and the Bookish. We'd love to share our lists with other bookish folks and would LOVE to see your top ten lists!

Each week we will post a new Top Ten list that one of our bloggers here at The Broke and the Bookish will answer. Everyone is welcome to join. All we ask is that you link back to The Broke and the Bookish on your own Top Ten Tuesday post AND add your name to the Linky widget so that everyone can check out other bloggers lists! If you don't have a blog, just post your answers as a comment. Have fun with it! It's a fun way to get to know your fellow bloggers.
This week's topic is:
Top Ten Books On My TBR For Summer 2015
1.

Daughter of Earth and Sky

by Kaitlin Bevis

--this is in my immediate review pile, as are the next few ones! Excited about this because Persephone was pretty interesting and curious to see where this trilogy goes!
2.

The Iron Queen

by Kaitlin Bevis

--

again, a review book that I am excited to read!
3. After Alice

by Gregory Maguire

--this was sort of an impulse request from EW. This is actually the first request that I've been approved of this year from them. I kind of just whimsy requested it since everything I've requested has been rejected...or ignored. Powerless by Tera Lynn Childs & Tracy Deebs is still "pending". *eyeroll*
4.

Beckoning Light

by Alyssa Rose Ivy

--

didn't realize Alyssa had yet another fantasy NA series! This is an older one I plan to start and I am hoping I love it as much as her others. I need to buy the second two, but wanted to wait until after I read book 1.
5.

Perilous Light

by Alyssa Rose Ivy

--the second book in the Afterglow trilogy. I wanted to read book 1 before downloading these. Why, not sure. Guess because ebooks feel so final to me. I'm weird.
6.

Enduring Light

by Alyssa Rose Ivy

--

so pretty much all I just said in pick number 4!
7. Forged in Stone

by Alyssa Rose Ivy

--this is the first in a new trilogy that is a spinoff of sorts to the Afterglow Trilogy! So I've heard at least! Hence the reason why I decided to read the first trilogy before reading this one which I just got for review last week!
8.

Wolfcry

by Amelia Atwater-Rhodes

--

yup! Going back to Amelia's books soon! I never did finish this series and when I saw there were only 2 books left, I thought why not! Plus HPB had them for a steal, so I had to get them!
9. Wyvernhail

by Amelia Atwater-Rhodes

--

the final book in this particular series! Let's hope I won't need much of a memory! The reason I remember leaving it before was book 3 didn't have the same characters so much. They were there but as secondary ones.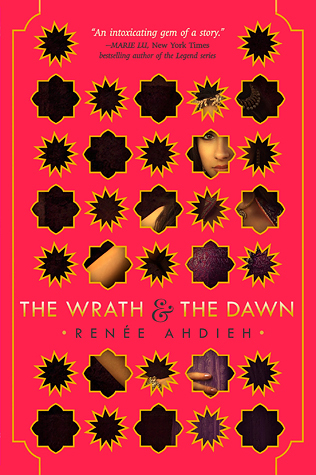 10. The Wrath and the Dawn by Renee Ahdieh--

been wanting to read this one for awhile! Gotta make it happen sooner rather than later!